markets
Trump Hit to Long Bonds Doesn't Bode Well for Europe's New Craze
By and
Shock election result has driven up 30-year Treasury yields

Debt from Austria to Italy vulnerable when ECB reduces QE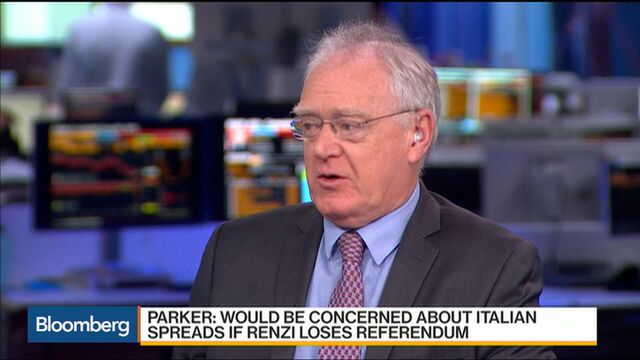 After all the fanfare around European countries selling bonds with the longest-ever maturities, the reaction to Donald Trump's victory may be a sobering omen.
The result of the U.S. presidential election drove up yields on 30-year Treasuries last week by the most since 2009 and bonds from the euro region followed. Securities that mature in half a century or more rather than just years have become the most vulnerable corner of the European market weeks after countries such as Austria and Italy sold them to investors attracted by their higher potential returns in a world of negative rates.

The slide in the price of Italy's 50-year bonds sold in October means that an investor who bought 100 million euros ($108 million) of the securities and held them through Friday was left nursing a paper loss of 13 million euros, according to data compiled by Bloomberg. The question now is what will happen when the European Central Bank starts scaling back its quantitative-easing program, which is pumping 80 billion euros into the bond market each month.
"My biggest concern with regard to financial markets is whenever the ECB will
start this tapering and what will happen then," Anne Leclercq, director for treasury and capital markets at the Belgian Debt Agency, said at a conference in Brussels last week. "There is a risk of a selloff of essentially longer-end securities."
From Austria to Ireland, governments have sought to lock in lower borrowings costs for longer. Rather than the usual pension funds that tend to buy and hold, though, a wider pool of investors snapped them up as they sought to generate returns. That potentially increases the chances of a sharper decline, Leclercq said.
ECB bond buying has pushed the average yield on euro-area debt securities with due dates of a decade or less to a record-low minus 0.108 percent by September.
The longer-dated bonds don't qualify for ECB purchases, but the risk is that the whole market would tumble if QE were reduced and shorter yields might become more attractive. The decline last week doesn't mean it hasn't been a profitable trade so far. Euro-region bonds that mature in more than 20 years earned 7.6 percent in 2016, compared with 1.1 percent for those that mature in a decade or less.

The ECB's next monetary policy decision comes in December, a week before the Federal Reserve might raise U.S. interest rates. Rising bond yields in the euro area signal investors are scaling back expectations of more stimulus from the ECB, which may instead face questions about when it will start to scale back QE.
"Even if it's a slight tapering, it's more changing direction that could be quite significant for markets and trigger volatility," said Zoeb Sachee, Citigroup Inc.'s head of European government bond trading. "This is something that can happen in the next few months, but probably not yet."
In the meantime, there's still room for the market to decline. Italian 30-year bonds yield 3.25 percent, still about two percentage points less than the average during the first decade of the euro's existence. The yield on German 30-year bonds rose above 1 percent since May on Monday. Bonds of that maturity were sold at an average yield of 0.64 percent as recently as October.
"We need to be thinking when the program will turn around," Franck Motte, global head of euro rates at HSBC Holdings Plc, said in a panel discussion at the Brussels conference. "The amount of duration currently available into the market is huge."
Before it's here, it's on the Bloomberg Terminal.
LEARN MORE