Emerging-Market Losses Deepen as Dollar Gains; ETF Outflows Rise
By and
Selloff will continue as U.S. rates advance: Credit Agricole

Local-currency sovereign yields surge from Malaysia to Turkey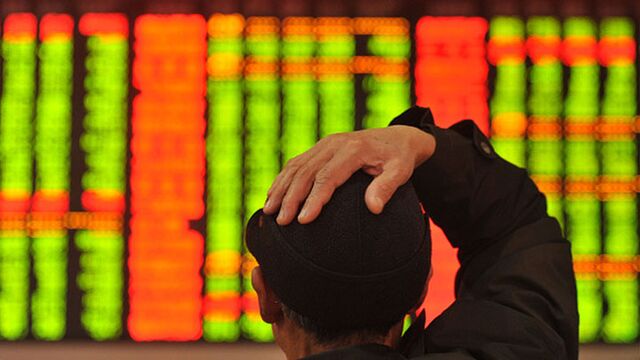 Emerging markets extended losses, threatening the best annual rally since 2012, as the dollar's strength cut demand for riskier assets in the wake of Donald Trump's U.S. presidential election victory.
The Turkish lira, Russia's ruble and the Colombian peso helped lead declines among developing-market currencies and a gauge of equities retreated for a fourth day amid speculation the U.S. is headed for an era of rising interest rates and protectionist trade policies. Bulgarian debt fell after voters chose former Air Force Chief Rumen Radev, a political novice who wants to limit immigration and reduce sanctions on Russia, as the new president.

Trump's victory spurred a rout in developing markets as investors rushed to haven assets, wiping $1.2 trillion off the value of bonds worldwide, on speculation the president-elect's promises to usher in protectionist trade policies and broaden spending on U.S. infrastructure will fuel inflation. The plunge in currencies was mirrored in the equity and bond markets where investors withdrew $1.72 billion from U.S. exchange-traded funds that buy emerging-market stocks and debt, the largest losses since May.
"The selloff in emerging markets will continue as long as U.S. rates keep climbing," said Guillaume Tresca, a senior emerging-market strategist at Credit Agricole CIB in Paris who recommends buying the Turkish lira against the South African rand. "One could say the current levels are attractive but given the good year so far and with the end of year coming, I don't see reasons for investors to take long emerging-market positions."
The MSCI Emerging Markets Index declined 1.2 percent to 838.96, the lowest level since July 8. The gauge pared its 2016 rally to 5.6 percent, more than half of the gains recorded at the beginning of September. All 11 industrial groups declined.
The MSCI Emerging Markets Currency Index slid 0.2 percent, extending last week's 2.3 percent drop, the sharpest four-day loss since 2011. Trump's pledges to boost spending have pushed up bets the Federal Reserve will increase interest rates at its December meeting to 94 percent, from 76 percent at the end of the week before the Nov. 8 U.S. election, according to data compiled by Bloomberg.
Read More: The bond market's message for Trump
Top Movers
The premium investors demand to own developing-nation government bonds over U.S. Treasuries widened 15 basis points to 365, according to JPMorgan Chase & Co. indexes.
Brazil's real depreciated 0.9 percent, extending four days of losses to 7.7 percent, and volatility increased to a seven-month high as the central bank's interventions to support the currency failed to counter rising U.S. yields. The Ibovespa Index added 0.8 percent, reversing a three-day loss of 7.8 percent.
The yield on Bulgaria's euro-denominated bonds maturing in September 2024 rose 24 basis points to 2.1 percent, the highest since July 26. Radev's victory as president led the government of Boyko Borissov to resign, putting the EU's poorest country on track for its third early parliamentary elections in five years. The country's benchmark stock index shed 0.8 percent.
The lira, South Korean won, Malaysian ringgit and Hungarian forint were among currencies that weakened at least 0.6 percent as the Bloomberg Dollar Spot Index advanced to the highest since February. The ruble dropped 0.5 percent as Brent crude traded near $45 a barrel.
Ulker Biskuvi Sanayi AS tumbled 8.6 percent in Istanbul in the biggest drop since June 2013, after a column in a local newspaper fueled speculation that it'll be caught up in President Recep Tayyip Erdogan's nationwide crackdown against his opponents.
The Jakarta Composite Index slumped 2.2 percent, adding to a 4 percent plunge on Nov. 11. Property developer PT Bumi Serpong Damai tumbled 6.8 percent.
Dubai's DFM General Index fell 0.9 percent, taking its four-day decline to 3.1 percent, and the Bloomberg GCC 200 Index shed the most since Oct. 17.
Poland's WIG Index fell 1.9 percent, leading declines in central and eastern Europe. Shoemaker CCC SA fell as much as 5.2 percent, the steepest drop since June 24, after third-quarter earnings missed forecasts.
The yield on Brazil's 10-year debt maturing 2027 advanced 20 basis points to 12.3 percent. The yield on the equivalent-maturity security in Turkey rose 20 basis points to 10.8 percent.