Quake-Stranded Tourists in New Zealand Await Military Rescue
by
Key says visiting Hungarian president 'terrified' during quake

Tourism earnings may take short-term hit as visitors deterred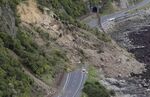 New Zealand military helicopters will begin evacuating tourists from the stricken South Island town of Kaikoura Tuesday as the country starts to assess the cost of a massive earthquake that killed two people.
The Defence Force aims to airlift about 140 people today from the whale-watching town after landslides blocked the highway on both sides, Defence Minister Gerry Brownlee said in a statement. A New Zealand naval ship is being sent with supplies and to help with evacuations from Kaikoura, where as many as 1,100 tourists are reportedly stranded, and the U.S. has offered two helicopters from its visiting destroyer the USS Sampson.
The rescue efforts come as seismologists warn that Monday's magnitude 7.5 earthquake could trigger further ruptures in New Zealand's complex fault system. While the country was spared the widespread destruction caused by a 2011 quake that left 185 people dead, Prime Minister John Key has estimated the bill from this latest disaster could be a "couple of billion" dollars and may impact the tourism industry -- New Zealand's largest source of foreign-exchange earnings.
"We need to reassure people that the quality of our buildings is very high" and "the probability of an earthquake is very low," Key told Television New Zealand. "The thing I don't like about it is" the images of destruction "were all around the world."
Terrified President
Hungarian President Janos Ader was in the capital city of Wellington when the quake struck and was terrified, Key added.
Wellington sits directly on top of a major faultline and was badly shaken by the violent tremor, which struck just after midnight. Among hundreds of aftershocks, three have been of magnitude 6 or greater.
Ken Gledhill, head of seismic monitoring agency GeoNet, told Radio New Zealand it wasn't possible to predict where the next quake would hit. But it's clear the nation faces a "period of more earthquakes," he said.
The South Island city of Christchurch is still recovering from the 2011 temblor that destroyed the city center. Monday's quake was centered in a rural area between Christchurch and Kaikoura, yet still shook Wellington more than 300 kilometers (185 miles) to the north.
Foul Weather
The capital city returned to work Tuesday, though some streets remain cordoned off as engineers inspect buildings for structural damage. Adding to the disruption, foul weather has caused severe flooding and landslips in Wellington and neighboring areas, closing roads and prompting the evacuation of some houses.
Economists said there's a risk that international coverage of the quake and its aftermath could deter tourists, though the impact is likely to be limited.
"That's definitely one of the negative impacts that could show up in time," said Nick Tuffley, chief economist at ASB Bank Ltd. in Auckland. The quakes in 2011 led to a "bit of a dip in arrivals, but from 2012 onward things did recover quite rapidly. And while there's certainly disruption from this quake, it's not quite as graphic as the image of a destroyed city."
At the margin, work to repair infrastructure damaged by the quake could be inflationary, bolstering the case that the central bank is done cutting interest rates, Tuffley said.
Before it's here, it's on the Bloomberg Terminal.
LEARN MORE