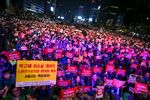 As South Koreans flooded the streets of Seoul in hundreds of thousands over the weekend to demand the resignation of President Park Geun-hye over an influence-peddling scandal, some of the loudest cries came from the nation's youth.
Their anger is so great that recent opinion polling shows zero support for Park from people in their 20s and a mere 3 percent from those in their 30s.
Unlike older generations, who felt themselves move forward as the country advanced rapidly for decade after decade, many younger Koreans today find themselves standing still or sliding backward. The jobless rate for people under 30 is more than twice the overall average, and many contracts are for temporary workers. Those who do get a good job are concerned that soaring property prices put home ownership beyond their means.

"People in their twenties are just starting adult life, but the reality ahead of them is already dark—like Hell Chosun," said Lee Na-young, a professor of sociology at Chung-Ang University in Seoul, using a description of the county and its future often used in social media. According to Lee, the claim that the daughter of a confidant and friend of President Park received special favor to enter a prestigious women's university triggered much of the recent anger.
"The young see that those involved in the scandal enjoyed all the perks and lead a rich life," said Lee.

Park still gets some support from older Koreans—with 13 percent of Koreans 60 and older saying they approved of her or thought positively of the president, according to a Gallup report on Nov. 11 that showed support from various age groups.
Some of the elderly have a positive association of Park because of her father, the dictator Park Chung-hee, who also got credit for leading double-digit economic growth, according to Lee at Chung-Ang University.
Still, only 5 percent of people overall said they still supported the president, with her already low popularity collapsing in recent weeks as the scandal deepened. Park has never been able to achieve the growth she promised and to deliver a more "democratic" economy, in which people feel the benefits of growth are being shared more widely.
South Korean prosecutors said they expected to question Park—as a witness rather than a suspect—this week over the scandal. President Park appointed a lawyer who will discuss the date and place of questioning with prosecutors, Yonhap News reported Tuesday, citing Park's office.
That may not be enough for the opposition. Choo Mi-ae, the leader Democratic Party of Korea, posted on Facebook on Tuesday that the opposition parties and civil society will do their best to remove the president from her post.  


Before it's here, it's on the Bloomberg Terminal.
LEARN MORE