OPEC Said to Start Final Diplomatic Push on Oil-Cuts Plan
by and
Qatar, Algeria, Venezuela in shuttle-diplomacy to secure deal

Iran and Iraq considering proposals, but so far no agreement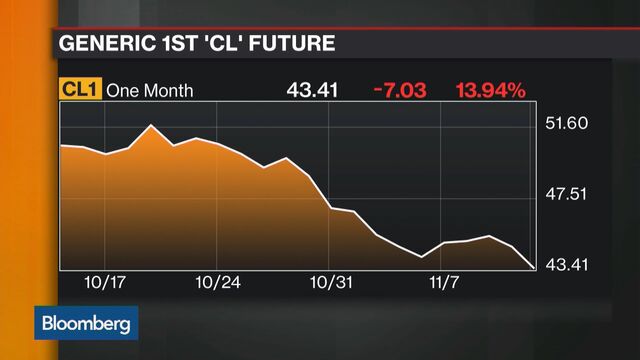 OPEC nations embarked on a final diplomatic effort to secure a deal on oil cuts, with Qatar, Algeria and Venezuela leading the push to overcome the divide between the group's biggest producers, according to a delegate familiar with the talks.
The behind-the-scenes diplomacy comes after bilateral meetings over the weekend failed to resolve the rifts, leaving just two weeks to finalize an agreement before the Nov. 30 ministerial meeting in Vienna, according to the delegate, who asked not to be identified because the discussions are private. Saudi Arabia, Iraq and Iran are still at odds over how to share output cuts, the person said. Russia said it will hold informal discussions with some members of the group in Doha this week.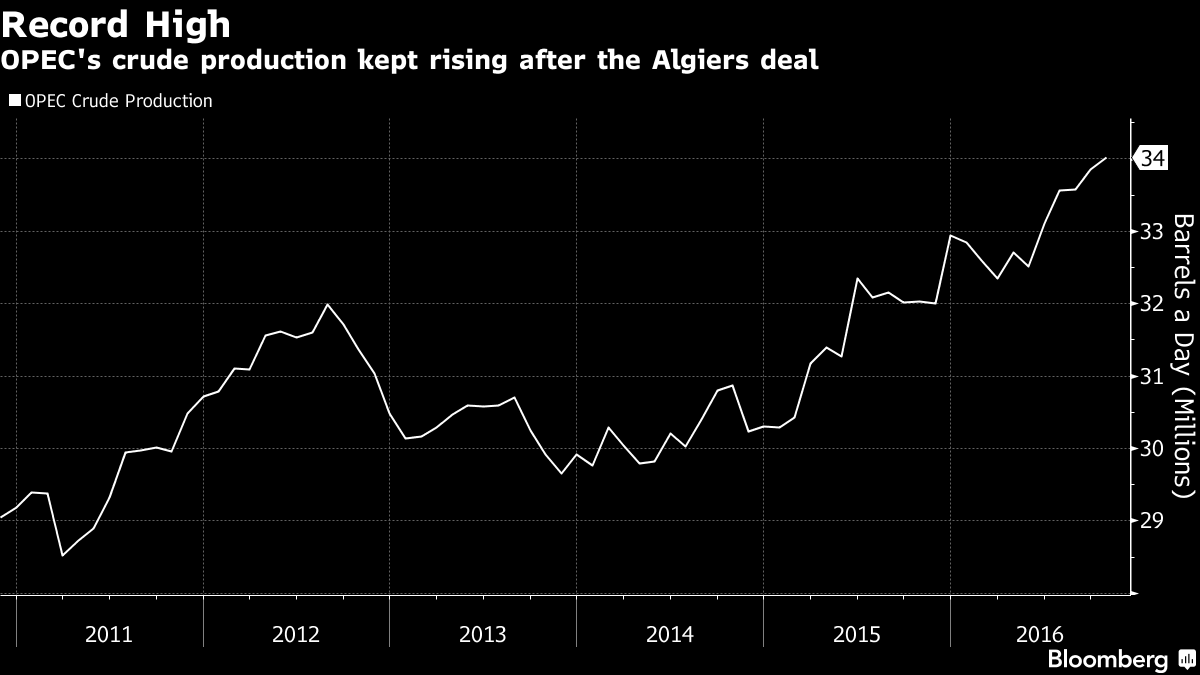 The Organization of Petroleum Exporting Countries has yet to find a path to finalize the preliminary cuts deal reached in Algiers on Sept. 28, which ended a two-year policy of pumping without limits. After an initial rally to nearly $54 a barrel, Brent crude has dropped to $45 as doubts spread about the implementation of the agreement. Members' total output is still growing as Libya and Nigeria recover from violence that halted production.
Saudi Arabia, the group's de-facto leader, is ready to cut production, but only if the effort is built around four pillars, said the delegate. All members must agree to collective action, pledge to share the burden of cuts equitably, and do so in a way that is transparent and has credibility with the market. The latter can be achieved by using OPEC estimates of how much each member pumps, rather than relying on the countries' own estimates, the delegate said.
Four Pillars
In practice, that means Saudi Arabia still thinks Iraq needs to cut output and Iran has to freeze production around current levels, the person said. Neither country has so far agreed to do that. As initially outlined in Algiers, Libya and Nigeria would be exempt from supply curbs.
Iran is considering a proposal to freeze its oil production near the level the country says it pumps -- nearly 4 million barrels a day -- rather than OPEC's estimate of about 3.7 million, the delegate said. Iraq is mulling a cut, but only from the Oil Ministry's own level of about 4.8 million barrels a day, not the 4.6 million barrels a day OPEC says it pumps, the person said.
Iraq has sought an exemption from joining any production cuts, arguing that its fight against Islamic State justifies special treatment. Iran has insisted it won't accept any limits on its production until it has returned to the pre-sanctions level of about 4 million barrels a day.
"People are pretty pessimistic right now about a potential agreement," BP Plc Chief Executive Officer Bob Dudley said in a Bloomberg Television interview from Riyadh. "You see that in the price," he said. If the talks fail, prices "will stay around the level we're at."
Saudi Visit
As OPEC nations work to secure a deal, Algerian Prime Minister Abdelmalek Sellal led a delegation which includes the Energy Minister Noureddine Boutarfa for a two-day visit to Saudi Arabia starting Monday, state-run Algerian Press Service reported. Boutarfa plans to travel from there to Doha, where Russia said it will hold informal consultations with some OPEC ministers at a natural gas forum on Nov. 17-18.
Qatar and Algeria were the architects of previous attempts this year to reach an OPEC deal to limit supply, while Venezuela's energy minister played go-between for Iran and other members of the group. Saudi Arabia, Iraq and Iran are the largest producers within OPEC, accounting for about 55 percent of the group's output, according to data compiled by Bloomberg.
Watch Next: BP's Dudley Says Oil Supply and Demand Generally Balanced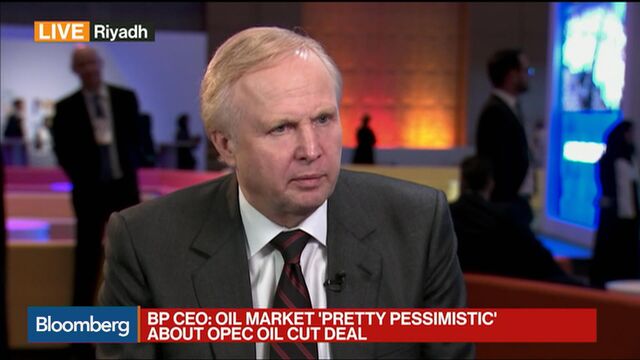 OPEC pledged in Algiers to bring its production down to a range of 32.5 million to 33 million barrels a day, which compares with output of 33.6 million last month. The group is also seeking cooperation from Russia and other producers outside the group, although so far none have committed to curbing output. Without a deal, the International Energy Agency predicted that 2017 will be the fourth consecutive year in which supply runs ahead of demand.
"If the supply surplus persists in 2017 there must be some risk of prices falling back," the IEA said in its closely watched monthly report Nov. 10.
Before it's here, it's on the Bloomberg Terminal.
LEARN MORE