Unfinished U.S. Nuclear Plant Given New Lease of Life With Sale
by
Nuclear Development buys unfinished TVA units for $111 million

TVA construction on reactors had started in the 1970s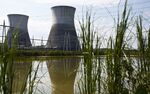 Property developer Franklin L. Haney is going all out for nuclear at a time when reactors are being shut down across the U.S.
His company, Nuclear Development LLC, said Monday it would purchase an unfinished facility in Alabama from the Tennessee Valley Authority for $111 million after the government-controlled utility failed to complete a project that began four decades ago.
Nuclear Development plans to invest as much as $13 billion to complete the Bellefonte plant with work starting in 2017, the company said in a statement Monday. "This project will bring new life to the region by creating thousands of jobs while providing assured access to reliable, affordable, zero-emission energy," Haney said in the statement.
The sale underscores the challenges that America's nuclear power generators have been facing for years amid competition from generators burning cheap natural gas and the rising use of renewable power. Five nuclear power plants have retired in the past five years including Fort Calhoun in Nebraska, which closed last month.
Tennessee Valley Authority decided to sell the site in May and held an auction for the plant with $36.4 million as the initial bid, Scott Fiedler, a spokesman for TVA, said in a phone interview."We don't need large baseload capacity like this facility for the next 20 years, so it was a smart business decision to put it back in play," Fiedler said.
The project is "similar to developing a skyscraper in Manhattan starting with the land under one pizza shop on the corner," said Kit Konolige, an analyst for Bloomberg Intelligence.
Tennessee Valley Authority had tried in fits and starts to complete Bellefonte, investing $5 billion over decades, Fiedler said. The site includes about 1,300 acres on a reservoir, two partially built reactors and several office and support buildings.
Nuclear Development described itself in the statement as a family-owned and managed company established in 2012 by Haney, who has investments in real estate and property development. It didn't immediately return a phone call seeking additional comment.
Before it's here, it's on the Bloomberg Terminal.
LEARN MORE