Nationwide Protests Over Vote Force Gabon to Cut Growth Forecast
by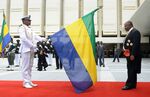 Gabon reduced its growth forecast this year to 2.9 percent from 3.2 percent as nationwide protests against the outcome of a presidential election in August hindered economic activity in the central African nation, according to the economy minister.
"The economy picked up again in November," Regis Immongault said in a phone interview Sunday from Morocco, where he attended a summit on climate change. "The situation was difficult." The economy will probably expand 4 percent next year, he said.
Violent protests paralyzed the country's two main cities, Libreville and Port-Gentil, for at least two weeks in September after the electoral commission announced that President Ali Bongo had won a second seven-year mandate, defeating main opposition leader Jean Ping with less than 10,000 votes. Opposition parties allege that the vote results were rigged, an accusation Bongo denies.
Crude Exports
The government isn't planning to sell new Eurobonds this year or next as interest rates are unfavorable, Immongault said. "There's nervousness on the capital markets, so we will issue T-bills and bonds at the regional market to raise funds," he said.
While Gabon has been dependent on income from crude exports for decades, non-oil exports such as timber and palm oil will mainly drive growth, according to Immongault, who served as economy and finance minister under Bongo's father, Omar Bongo, from 2002 to 2009. The nation will probably produce 11.1 million metric tons of crude next year, compared to an estimated 11.3 tons this year, he said, without giving further details.
Before it's here, it's on the Bloomberg Terminal.
LEARN MORE