Modi Raises Cash Limits as Banks Get $44 Billion in Deposits
By
Limits on daily withdrawals from bank ATMs increased

About $7.4 billion have been disbursed, old bills exchanged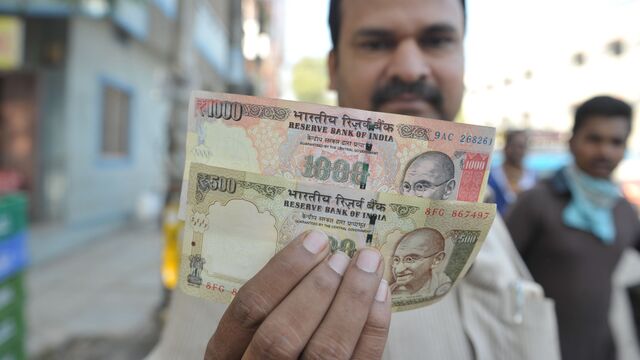 India raised the limits on withdrawals and exchange of old banknotes after the government's surprise move to ban high-denomination bills on Nov. 8 resulted in customers across the country queuing for hours to deposit the old bills.
Banks have received 3 trillion rupees ($44.4 billion) in deposits in the first four days, the finance ministry said in a statement late on Sunday. About 500 billion rupees have been disbursed either from withdrawals or exchange of old banknotes, it said. The daily limit on withdrawals from cash dispensing machines has been raised to 2,500 rupees, while weekly cap has been increased to 24,000 rupees.
Prime Minister Narendra Modi on Sunday defended his move to withdraw 500-rupee and 1,000-rupee notes, which accounted for 86 percent of money in circulation, as an important step in the fight against corruption and tax evasion, and urged people to bear the pain for 50 days and back the measure. The government said it's stepping up efforts to ensure banknotes of all denominations are available as banks, which remained opened across the country through the weekend, come under pressure to replenish the funds.
About 180 million transactions have been handled by India's banking system in four days through 5 p.m. on Sunday, according the finance ministry. The Reserve Bank of India on Sunday urged the public not to be anxious and avoid going to banks repeatedly to withdraw and hoard cash.
Read more: India bans high-denomination notes
The government raised the limit of withdrawals from a current account held at banks to 50,000 rupees per week in a move to help small businesses pay wages, Economic Affairs Secretary Shaktikanta Das said at a press briefing in New Delhi on Monday. The date to accept the old high-denomination bills at places such as government hospitals, utilities and fuel stations has been extended until Nov. 24, he said.
Modi is seeking to fulfill his election promise of recovering illegal income, locally known as black money. The government will take more steps to curb tax evasion, including action against benami property, he said at an event in Goa on Sunday. Benami is property owned by someone but held in the name of a third party.
Even so, the cash crisis has seen people standing for hours in long lines to exchange the now-defunct notes, and political rivals of Modi's Bharatiya Janata Party relaying images of the chaos on social media.
The shortage of banknotes is also hurting businesses. About 60 percent of the truck fleet in the country is stranded on highways because of the cash crunch, according to Naveen Kumar Gupta, secretary general at the All India Motor Transport Congress, which represents operators of about 9.3 million goods carriers.
"While we are with the government on this issue of eliminating black money, but on the ground trucks are facing serious practical problems," Gupta said in a telephone interview on Monday. "The daily withdrawal limit is low so we don't have enough to provide drivers to meet daily needs like food."