May Eases Anti-Business Rhetoric in Response to Trump Win
By
Prime minister urges globalization's winners to help losers

UKIP's Farage becomes first British politician to meet Trump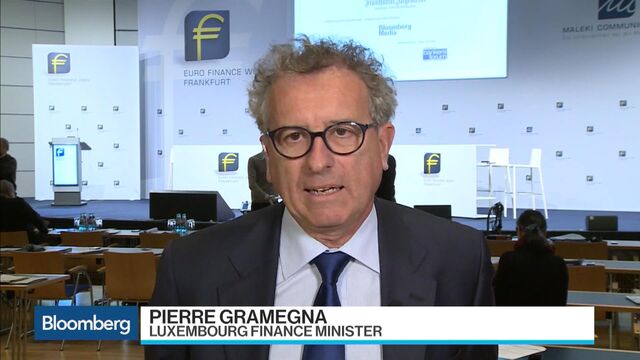 U.K. Prime Minister Theresa May will respond to Donald Trump's U.S. election victory with a speech that eases some of her past anti-business rhetoric and tells supporters of economic liberalization and free trade that they have to listen to those who think such forces have more downsides than benefits.
At the Mansion House in London on Monday evening, May will give her first major speech on foreign policy since taking office in July. It will also be her first analysis of Trump's victory last week. According to extracts released by her office, she'll argue that "change is in the air" and that it is the job of politicians to respond to voters who are unhappy with shifts in society.
"These people -- often those on modest to low incomes living in rich countries like our own -- see their jobs being outsourced and wages undercut," she'll say. "They see their communities changing around them and don't remember giving their permission."
With voters worried about Trump -- a ComRes poll found two-thirds of Britons thought his victory made the world a more dangerous place -- U.K. politicians are divided on how to respond. Jeremy Corbyn, the leader of the opposition Labour Party, attacked him as a populist who needs to "grow up." Nigel Farage, who as leader of the U.K. Independence Party was a chief advocate in the campaign to get Britain out of the European Union, on Saturday became the first British figure to meet Trump since the election. He tweeted a picture of the two of them standing together, and said he found the president-elect "relaxed and full of good ideas."
May's spokeswoman, Helen Bower, dismissed suggestions that Farage could act as an intermediary between the prime minister and Trump, who spoke by phone on Thursday. "The president-elect talked about enjoying the same close relationship that Reagan and Thatcher did," Bower told reporters in London on Monday. "I don't remember there being a third person in that relationship."
There's an "established route of engagement between the prime minister and the president-elect and I'm sure we will continue to use that route for conversations and exchange of views," Bower said. Asked if there might be a meeting before Trump's inauguration in January, she said no dates have been fixed.
May will say in her speech that the concerns of voters are valid and deserve an answer.
'Twin Forces'
"If we are to continue to make the case for liberalism and globalization, as we must, we must also face up to and respond to these concerns," May will say. "If we believe, as I do, that liberalism and globalization continue to offer the best future for our world, we must deal with the downsides and show that we can make these twin forces work for everyone."
Follow @Brexit for the latest news, and sign up to our Brexit Bulletin for a daily roundup.
May's other big speech since taking office was at her Conservative Party's annual conference last month where she took a series of swipes at "international elites" and business leaders. Monday's address rows back a little from that, by saying she is "unequivocally and unashamedly pro-business." But she's only going a little way: May will warn that "when a minority of businesses and business figures appear to game the system and work to a different set of rules, the social contract between businesses and their employees fails."
'Global Advocate'
In May's vision, post-Brexit Britain will lead the way in showing how to address voter anger without rejecting free trade and other pillars of the modern economy. She'll promise to "show the world that we can be the strongest global advocate for free markets and free trade because we believe they are the best way to lift people out of poverty, but that we can also do much more to ensure the prosperity they provide is shared by all."
In a leaked memo reprinted by the Sunday Times newspaper, Kim Darroch, Britain's ambassador to the U.S., suggested that Trump might be "open to outside influence if pitched right." He said that because the embassy had "built better relationships with his team than have the rest of the Washington diplomatic corps, we should be well-placed to do this."
An emergency meeting of EU foreign ministers Sunday night in Brussels to discuss the U.S. election was held without U.K. Foreign Secretary Boris Johnson. He skipped the session, but he told reporters in the Belgian capital on Monday that "there's a lot to be positive about" in Trump's victory.
"It's very important not to prejudge the president-elect or his administration," Johnson said. "Donald Trump, as I have said before, is a deal-maker. And I think that could be a good thing for Britain, but it can also be a good thing for Europe."