May Calls on U.K. to Show Capitalism Can 'Work for Everyone'
by
Companies have role in championing free trade, premier says

Leaders need to address concerns of those 'left behind'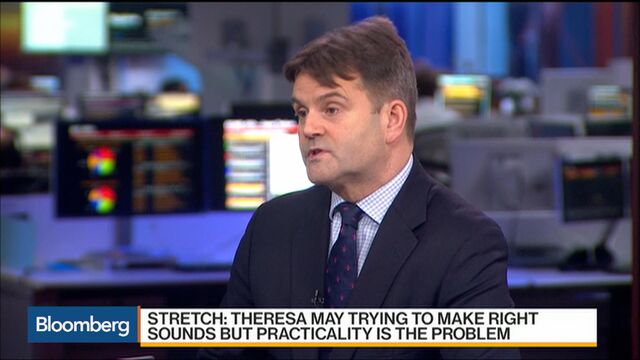 Prime Minister Theresa May said U.K. companies have a responsibility to show how capitalism can "work for everyone" and soften the resentment of those who feel "left behind" by globalization.
In her first major incursion into foreign policy, May addressed the shifts in society that drove the election of Donald Trump in the U.S. and the Brexit vote. As Britain negotiates its divorce from the European Union, May called on businesses to play their part in championing free trade and liberalism, two bastions that have fallen out of favor with the electorate.
"That small minority who believe they can operate by a different set of rules, and who recklessly damage the entire business community in the process," must change their behavior, May told her audience at the Guildhall in the City of London. It is important that corporate Britain "is seen not just to do business but to do that business in the right way."
The prime minister went on to elaborate on the mood among Western voters and the economic forces that resulted in a populist backlash against the political establishment.
For a deep dive into why free trade has enraged voters in the West, click here.
"When you refuse to accept that globalization in its current form has left too many people behind, you're not sowing the seeds for its growth but for its ruin," May said. "As anti-globalization sentiment grows, it is incumbent on those of us in positions of leadership to respond: to make sense of the changing world around us and to shape a new approach that preserves the best of what works, and evolves and adapts what does not."
The prime minister also hinted that Britain might opt out of the European Customs Union when it completes its split from the EU, scheduled to be completed by March 2019. Britain will be free to negotiate its own deals, she said, something that would be impossible if it decides to stay in the customs union, through which the EU negotiates trade deals and sets external tariffs.
"We will use the freedoms that come from negotiating with partners directly, to be flexible, to set our own rules and forge new and dynamic trading agreements that work for the whole U.K.," May said. "There is not some choice between hard Brexit and soft Brexit. It is about how business and government works together to get the best deal; the right deal for Britain and the right deal for businesses working across the continent."
May said she has been accused of wanting to run an "anti-business" administration since her speech to the Conservative Party's annual conference last month, where she took a series of swipes at "international elites" and business leaders. She said it is not her intention and committed herself to being "unequivocally and unashamedly pro-business."
"Asking business to work with government to play its part is profoundly pro-business, because it is fundamental to retaining faith in capitalism and free markets," May told her audience.
The Confederation of British Industry welcomed May's speech and pledged to work with her to develop U.K. industry, inward investment and trade.
"The United Kingdom is renowned for our innovative, ambitious and international firms of all sizes, sectors and regions, which are focused on trading across the world and creating prosperity back home," CBI Director-General Carolyn Fairbairn said in a statement. "It's encouraging to see the government make a robust case for free trade."
Jeremy Corbyn, leader of the opposition Labour Party, said May will have to tackle vested interests and force business to change to confront the inequality that fuels anti-globalization sentiment.
"There can't be a globalization that works for all without taking on the billionaires club that controls this rigged system," Corbyn said in an e-mail. "The Conservatives have presided over ballooning inequality. They've given tax cuts to the richest one percent while the incomes of 70 percent have stagnated or fallen."
Watch Next: Can Capitalism Work as Theresa May Wants?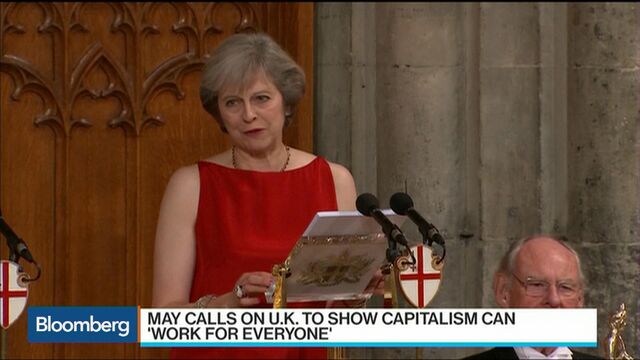 Before it's here, it's on the Bloomberg Terminal.
LEARN MORE