Japan's Topix Rallies to Near Seven-Month High on GDP, Weak Yen
By , , and
Tokyo shares display most resilience in Asia post-Trump win

Toyota, Mitsubishi UFJ among stocks that advanced on Monday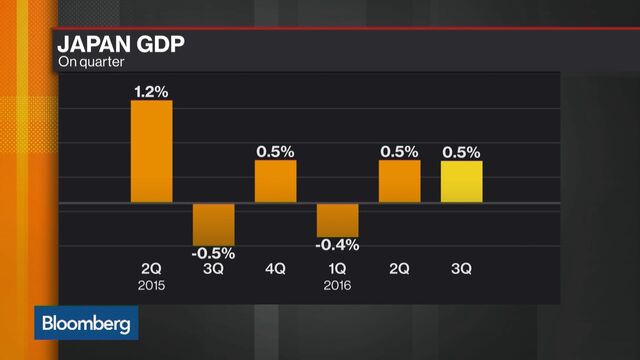 Japanese shares rose, bucking a trend in other Asian markets, after data showed the country's economy expanded more than forecast and as the yen slid to a five-month low.
The benchmark Topix index closed at its highest since April 25, extending gains after its best week in almost two months. Japan's gross domestic product expanded by an annualized 2.2 percent in the third quarter, according to data released by the Cabinet Office on Monday, beating a median estimate of economists for 0.8 percent growth as exports offset weak spending by individuals and companies.
"There could be varying interpretations over the details that make up the GDP numbers, but the headline figures topped expectations by a huge margin, which is having a positive impact," said Naoki Fujiwara, chief fund manager at Shinkin Asset Management Co. in Tokyo. "The yen is now trading at 107 to the dollar," bolstering stocks to levels that weren't previously anticipated, he added.
| Security | Percent Change | Price |
| --- | --- | --- |
| Topix | +1.6% | 1,400.00 |
| Nikkei 225 | +1.7% | 17,672.62 |
| Yen-Dollar | -0.9% | 107.57 |
Japanese equities have been the most resilient among Asian markets as the yen faltered after Donald Trump won the U.S. presidential election last week. Asian stocks fell for a second day amid concerns Trump will take a more protectionist approach to trade and that his plans to increase spending in the U.S. will lead to higher interest rates and an outflow of funds from emerging markets. The MSCI Asia Pacific Index dropped 0.4 percent, dragged down by Hong Kong, Australian, Malaysian and Indonesian markets.
The yen extended its decline against the dollar after tumbling 3.3 percent last week, helping exporters. The dollar rallied on the prospect of swifter Federal Reserve rate increases if government spending in the U.S. boosts inflation. Traders put the odds of a December U.S. rate hike at 84 percent, up from 68 percent at the beginning of this month.
"In Japan, a stronger dollar tends to stabilize the stock market because of its impact on the yen, but for emerging markets, excessive dollar strength could trigger capital-flight risks," said Ayako Sera, a Tokyo-based market strategist at Sumitomo Mitsui Trust Bank Ltd. "The Republicans used to be biased toward supporting free trade, but with Trump's opposition, we can't, at this point, make out where they will end up drawing the line when it comes to trade, which remains an uncertainty."
Global stock markets were whipsawed by news of Trump's victory last week, with the initial reaction skewed toward the negatives on concerns the incoming U.S. president will seek tougher trade rules to protect domestic businesses. Tokyo equities had their biggest price swings since Brexit in June, with the benchmark stock gauge plunging 4.6 percent on Wednesday only to rebound 5.8 percent the following day.
Exporters were the biggest contributors to the Topix's gains at the trading close on Monday, with a gauge tracking electric-appliance makers climbing 2.3 percent. Hitachi Ltd. bolstered the measure with a 4.2 percent gain while Sony Corp. jumped 1.9 percent. Automakers advanced 2.2 percent with the world's largest carmaker Toyota Motor Corp. up 1.4 percent and Mazda Motor Corp. climbing 5.7 percent.
Banks continued to chalk up solid gains following a global rally for financial stocks last week as bond yields jumped and on expectations Trump will scrap the Dodd-Frank Act in a bid to loosen up financial regulations. Japan's top lender Mitsubishi UFJ Financial Group Inc. increased 1.5 percent and Sumitomo Mitsui Financial Group Inc. added 1.1 percent ahead of second-quarter earnings results due later Monday.

Investors continue to speculate about what may or may not materialize from the new U.S. administration based on Trump's campaign statements and news trickling out from the transition team. Talk has swirled around potential stimulus measures, including rebuilding the country's infrastructure, which spurred expectations over near-term rate hikes.
Trump's economic adviser, Anthony Scaramucci, sounded a softer note on trade than Trump, suggesting the president-elect is open to negotiations before slapping barriers on imports, according to a Financial Times article over the weekend. The report comes after Japanese shares fell the most among Asian markets on Wednesday in the wake of Trump's victory on concerns over tougher trade conditions with the U.S., a key export destination.
Futures on the S&P 500 Index rose 0.6 percent. The underlying equity gauge fell 0.1 percent on Friday, while the Dow Jones Industrial Average ended its best week since 2011 at a record.
Before it's here, it's on the Bloomberg Terminal.
LEARN MORE