Emissions Growth to Slow in 2016 as China Burns Less Coal
By
Pollution advancing as UN envoys gather for Morocco talks

U.S. emissions to decline at a slower pace this year than last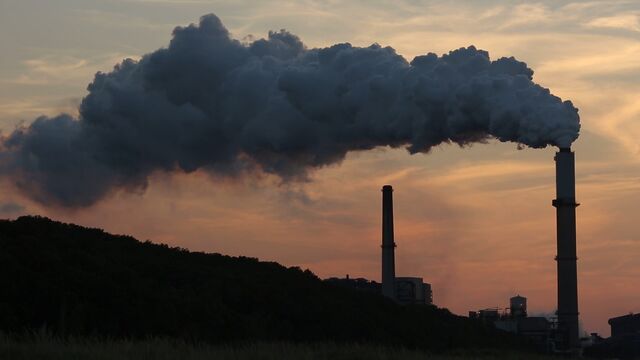 Global carbon emissions will expand more slowly this year as China's greenhouse-gas output declines.
Emissions will increase 0.2 percent, a slower pace than the average 2.3 percent a year in the decade through 2013, according to the Global Carbon Project and the University of East Anglia in Norwich, England. Economic production will advance more than 3 percent, according to a report written by the United Nations and academic groups.
"This third year of almost no growth in emissions is unprecedented at a time of strong economic growth," Professor Corinne Le Quere, director of the Tyndall Centre for Climate Change Research at the UEA, said in an e-mailed statement. "This is a great help for tackling climate change but it's not enough. Global emissions now need to decrease rapidly, not just stop growing."
UN envoys are meeting through this week in Marrakesh, Morocco, to thrash out rules of the Paris climate deal struck last year to limit emissions after 2020. Greenhouse gases are still rising to records as Donald Trump, the U.S. president-elect, threatens to scale back climate action in the world's richest nation and reduce UN funding.
The Paris agreement calls for 197 countries to limit global warming to 2 degrees Celsius (3.6 degrees Fahrenheit) above pre-industrial levels and work toward net zero greenhouse gas emissions.
China, which has a 29 percent share of global emissions, will cut its carbon dioxide output by 0.5 percent this year versus 0.7 percent in 2015, according to the report. Emissions in India and the European Union are increasing.
Seeking Momentum
In the U.S., the second-biggest polluter, emissions are expected to fall 1.7 percent, a slower pace than last year's 2.6 percent decline. The nation has also curbed use of coal, according to the report.
"If climate negotiators in Marrakesh can build momentum for further cuts in emissions, we could be making a serious start to addressing climate change," Le Quere said.
Total emissions from fossil fuels and industry will be about 36.4 billion tons of carbon dioxide this year, Glen Peters, senior researcher at the Center for International Climate and Environment Research in Oslo and co-author of the study, said by phone. That's about 5 percent of a budget of roughly 800 billion tons needed to keep temperatures below the 2 Celsius limit, he said.
To speed immediate emission cuts, Brazil is arguing that this week's talks should send a clear political signal that existing UN emission credits will be made eligible for use under the Paris deal after 2020. That would boost carbon prices and encourage investment.
Global temperatures rose to records this year, advancing near the level that scientists say would be catastrophic, the UN's World Meteorological Organization said in a report Monday.
Before it's here, it's on the Bloomberg Terminal.
LEARN MORE