Xi Tells Trump Cooperation 'Only Choice' for U.S.-China Ties
By
Trump vows 'strongest relationship' in telephone call

Exchange follows campaign in which Trump often bashed China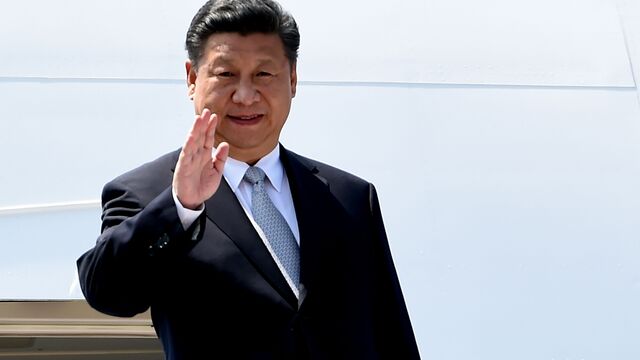 Chinese President Xi Jinping told Donald Trump in their first conversation that cooperation was the only correct choice for ties between the world's two largest economies, with the U.S. president-elect promising "one of the strongest relationships."
Xi told Trump by telephone Monday that the two powers benefited from working together and needed to coordinate efforts to promote global economic growth, state broadcaster China Central Television reported. The pair agreed to meet soon, CCTV said.
"China and the U.S. -- as the world's biggest developing country and the biggest developed country, and the top two global economies -- need to and can cooperate on many issues," Xi said, according to CCTV. "At this moment, there is an important opportunity and massive potential for China-U.S. cooperation so that both sides need to strengthen coordination."
Trump believed the conversation "established a clear sense of mutual respect" and predicted the two sides would build a strong relationship going forward, according to a statement from Trump's transition team.
The exchange follows a campaign in which Trump accused China of victimizing the U.S., a message that attracted a big following among voters in traditionally blue-collar states who blame globalization for job losses. The billionaire real estate developer has promised to label China a currency manipulator, bring trade complaints against the nation, and impose tariffs if it doesn't halt what he sees as unfair trading practices.
Cooperative Tone
Still, many in China's foreign-policy establishment have seen potential in Trump's deal-making approach. Since opening the economy to foreign investment more than three decades ago, Beijing's leaders have used no-strings-attached pragmatism to underpin growth.
Xi's remarks echoed the cooperative tone of a congratulatory telegram the Chinese president sent to Trump on Wednesday. In that message, Xi referred to elements of his "new model of great power relations," a conceptual framework for the U.S.-China relationship that was acknowledged but later shunned by the Obama administration.
Chinese Foreign Minister Wang Yi while in Turkey on Sunday said that China "stands ready" to further promote its relations with the U.S. from the new starting point of Trump's election. Wang said China maintains close contact with the U.S. at various levels, adding that it was a consensus shared by the U.S. Republican Party and the Democratic Party to constantly develop and deepen China-U.S. relations.