markets
Bond Rout Eats Into the One Remaining Valuation Case for Stocks
By
Surging Treasury yields chip away at Fed model valuation tool

Earnings yield closest to 10-year rate in three years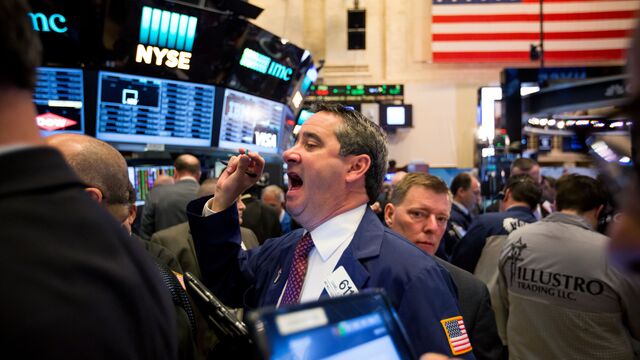 The selloff in debt that sent 10-year Treasury yields to the highest levels since January threatens to make an already richly priced stock market look downright expensive.
That's because of its effect on a valuation framework known as the Fed model, which says it's OK to own equities as long as their prices compare favorably with bonds. The comparison plots S&P 500 Index earnings expressed as a percentage of price, now 4.9 percent, against Treasury rates. Spiking bond yields have narrowed the advantage enjoyed by stocks to the least in three years.
The S&P 500 was little changed at 2,164.20 by 4 p.m. in New York on Monday, while the Russell 2000 Index of small caps climbed 1.3 percent to a record, exceeding an all-time closing high set in June 2015. The 10-year note yield rose to the highest this year. The selloff wiped a record $1.2 trillion off the value of bonds around the world last week and sent 30-year yields above 3 percent for the first time since December, while major stock gauges rallied the most in at least two years.
While not everyone considers it valid, the Fed model had been one of the last remaining lenses through which stocks looked cheap at a time when the S&P 500 trades above 20 times earnings. Stocks might be outpacing earnings growth, the argument goes, but as long as bonds are rallying faster, investors would be justified in sticking with the less-inflated asset.

"Trump is talking about very inflationary measures with new debt coming on, borrowing, etc., so bond yields have spiked -- it absolutely complicates valuations," Steven DeSanctis, a research analyst at Jefferies LLC, said by phone. "The inflation picture is important. It's a little early to finally see that rotation between stocks and bonds, but we're tracking fund flows on a weekly basis so we can see what actually happens."
Going by the Fed model, a record low of 1.36 percent on the 10-year yield in July and an earnings yield of about 5 percent on the benchmark gauge meant the gap between the two was wider than about 70 percent of the time since 2000, according to data compiled by Bloomberg. That spread has now dropped to 2.7 percentage points, the smallest in almost three years.
While the Fed model is simply a mathematical tool to compare returns, the surge in bond yields could have real implications on some of the forces behind a bull market that's more than seven years old. As yields rise, dividend-paying companies that have lured investors for their regular income could become less attractive.
Stocks and bonds have been moving in the same direction just about all year. With the S&P 500 up this month amid a rout in the Barclays bond index, the two asset classes are diverging for the first time in eight months, ended a run of synchronized moves that has only happened a handful of times since 1976.
Still, while yields are surging, they're doing so off very low levels. Bonds have a lot more selling to do before offering enough to draw investors away from high-yielding equities, according to Charles Schwab & Co's Jeffrey Kleintop.
"Historically, over 5 percent on the 10-year is where rising interest rates become an impediment to valuations," Kleintop, chief global investment strategist at Schwab, said in an interview on Bloomberg Television. "Below that it's actually correlated to higher stock prices. Rising interest rates means better economic activity, better inflation and are good for stocks."
The Dow Jones Industrial Average capped a third straight record close, rising 21.03 points, or 0.1 percent, to 18,868.69. Investors on Monday assessed a stronger dollar and fluctuating crude prices while the global debt selloff intensified. Stocks have outperformed bonds since Donald Trump's election win, on speculation his pledge to spend more on infrastructure will trigger interest-rate hikes amid a pickup in growth and inflation. About 9.9 billion shares traded hands on U.S. exchanges, 43 percent more than the three-month average.
Banks rallied for a sixth session following their strongest week in seven years, with JPMorgan Chase & Co. increasing 3.7 percent. U.S. Steel Corp. rose 8 percent to an almost two-year high on the expectations for more infrastructure spending, while technology companies slumped as Apple Inc. and IBM Corp. lost at least 1.9 percent amid concern Trump's trade policies could crimp profits.
"You're seeing a little bit of selling today and I think that reflects repositioning of portfolios," said Timothy Ghriskey, who helps manage $1.5 billion as chief investment officer at Solaris Asset Management LLC in New York. "It's also a little bit of profit-taking given the very strong rally we've had. Tech is where a lot of gains were, so as money gets shifted around to different sectors -- meaning into financials and into health care and industrials -- it has to come out of somewhere and a lot of it has come out of tech."
Among shares moving on corporate news, Harman International Industries Inc. soared 25 percent after Samsung Electronics Co. offered to buy the company for $8 billion in a bid to expand into a burgeoning market for automotive technology as the smartphone business wanes. Mentor Graphics Corp. gained 18 percent to a record after Siemens AG agreed to buy the industrial software maker for $4.5 billion.
— With assistance by Lu Wang, and John Hyland
Before it's here, it's on the Bloomberg Terminal.
LEARN MORE