Ryan Downplays Deportation in Trump-Era Congress Agenda
By
Securing border is priority; wall portions could be 'virtual'

President-elect looks to deport up to 3 million 'criminals'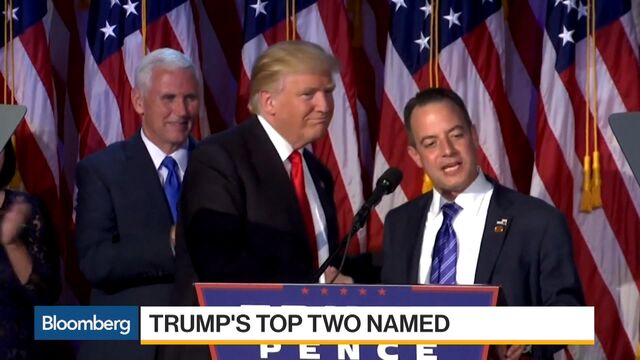 Top House Republicans downplayed expectations for President-elect Donald Trump's immigration plans, saying his call for a "deportation force" to deal with undocumented immigrants isn't a priority and that drones could patrol parts of the Mexican border instead of having Trump's signature wall.
Speaker Paul Ryan said on CNN's "State of the Union" that "securing the border's our top priority," while the force, which Trump called for in November 2015 to send as many as 12 million people back to their countries of origin, wasn't a "focus" for Republicans and the White House.
In the year since his original comment, Trump has alternatively walked back and reaffirmed the statement. Many of his rallies were punctuated by his supporters' chant to "build that wall."
In an interview with CBS's "60 Minutes" Trump said two million to three million undocumented immigrants -- criminals, gang members and drug dealers among them -- could be removed from the U.S. or incarcerated, according to a partial transcript provided by the network. He also said that he would settle for a fence on part of the border. The full interview airs later on Sunday.
The No. 2 Republican in the House, Majority Leader Kevin McCarthy, said on "Fox News Sunday" that a wall with Mexico must be built but that "it could be all-virtual with the UAV airplanes as well," using a acronym for unmanned aerial vehicles, or drones.
Republican Priorities
"That is very doable and one of the first things that needs to be done," the California representative said, adding that the terrain on the border sometimes makes the building of a wall impossible.
Beyond immigration, the main priorities for the Republican agenda in the upcoming Congress include health care, job growth, tax reform and rolling back regulations, McCarthy said.
Trump allies had downplayed the suggestion of the deportation force in recent months, but the comments from Ryan, who had earlier called for legal status for undocumented immigrants, suggested a continued movement away from the idea without ruling out that the president-elect might continue to push the concept in future.
"We are not planning on erecting a deportation force," said Ryan, of Wisconsin. "Donald Trump's not planning on that." McCarthy said on Fox that mass deportation would be "difficult to do."
McCarthy and Ryan both said that a planned Republican replacement for Obamacare would preserve the law's mandate that insurers can't deny coverage to those with pre-existing conditions and that children can stay on their parents' plans until age 26. That's in line with Trump's comments on Nov. 11 that he wanted to keep those popular provisions, despite having vowed to "repeal and replace" the law.
'Collateral Damage'
Ryan said he considered tax reform the best way to make American companies more competitive and bring jobs back to the U.S., while reiterating the view of many mainstream economists that Trump's earlier proposals for tariffs would spark "trade wars."
He called for fixing "taxes on border adjustments."
"We believe the smartest and best way to do that is comprehensive tax reform, which actually makes America much more competitive without any adverse effects, without any collateral damage to the economy," Ryan said.
Trump has been highly critical of U.S. trade deals, including Nafta. The billionaire international real estate investor has said he doesn't reject the concept of free trade. but his calls for steep taxes on imports from China and other nations have been central to his disputes with top Republicans, who generally embrace trade deals.
Representative Jason Chaffetz of Utah said on Fox News' "Sunday Morning Futures" that the U.S. needs "one-on-one agreements" rather than the multilateral agreements the nation has signed in several cases.
Clinton Investigation
Chaffetz, who chairs the House Oversight Committee, also said he would continue to investigate Hillary Clinton's use of a private e-mail server as secretary of state, even after Trump's win in the presidential race that may mark the end of Clinton's political life.
"It's this huge massive mess that has to be cleaned up," Chaffetz said. "We would be remiss if we just dismissed it and moved on. We have a lot of things that we have to fix so it never, ever happens again."
McCarthy, though, said that investigating Clinton isn't part of his agenda and he would "leave that portion to law enforcement."
Former New York City Mayor Rudy Giuliani, whom Trump is said to be considering for attorney general, said on ABC's "This Week With George Stephanopoulos" that the Trump administration might not "want to disrupt the nation with what might look like a vindictive prosecution" of Clinton. Still, an investigation by an independent counsel into the server matter and allegations of pay-for-play at the Clinton Foundation may still be warranted, he said.
Following a recommendation by FBI Director James Comey, the Department of Justice didn't move to indict Clinton in the e-mail matter in July. Clinton on Saturday blamed her loss on Comey's disclosure, 11 days before the election, that he was renewing the probe into her e-mail practices, according to reports. Comey reaffirmed his earlier judgment two days before the election.
A spokesman for the Clinton Foundation didn't respond to earlier requests for comment on Giuliani's allegations. The White House hasn't ruled out President Barack Obama pardoning Clinton.
Before it's here, it's on the Bloomberg Terminal.
LEARN MORE