Ousted Tata Head Denies Allegation Companies Were Drifting Away
By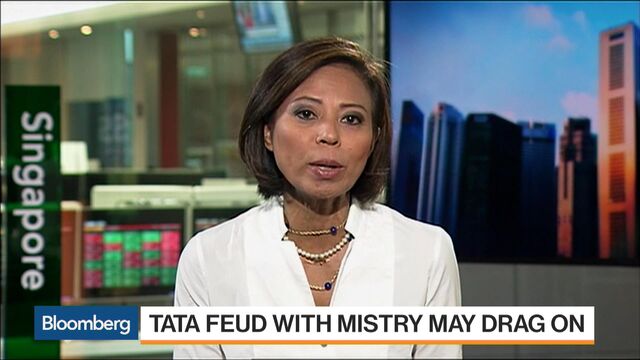 Cyrus Mistry, the ousted chairman of India's biggest conglomerate, denied allegations that units of Tata Sons Ltd. were "drifting away," because of the structure created by him to manage the $100 billion business empire.
Changes in India's corporate governance rules to include independent directors along with nominees from Tata Trusts, Tata Sons' biggest shareholder, meant limited involvement of members on group companies on the Tata Sons board, Mistry's office said on Sunday. The statement was in response to a nine-page press release issued by Ratan Tata-led Tata Sons on Thursday.
The deepening dispute threatens to prolong the turmoil roiling the group that makes products ranging from table salt to Jaguar sports cars. The wrangling has also cost investors as Tata Group's listed companies have lost more than $10 billion in market value, underperforming India's benchmark index, since Mistry was abruptly ousted less than three weeks ago.
Though Mistry was kicked out of the holding company, he retained his chairmanship at key listed units. Outside directors at one of the subsidiaries, Indian Hotels Co. even issued a statement supporting Mistry, while independent directors of Tata Chemicals Ltd. said they support decisions taken by the former chairman. Tata Sons is seeking Mistry's ouster from at least five firms. It is also seeking to remove independent Director Nusli Wadia from three units.
"The corporate governance framework in India has considerably tightened in recent times with more stringent rules," according to the statement from Mistry's office. "To meet this increased scrutiny, several new policies and frameworks were developed at the group center and deployed across operating companies."
The feud emerged on Oct. 24, when Mistry was abruptly removed as chairman of group holding company Tata Sons, less than four years after succeeding Ratan Tata. Mistry balked, saying he was wrongfully terminated and alleging that constant interference from his predecessor undermined Mistry's ability to fix problems at the group, according to a copy of a letter to the board of Tata Sons seen by Bloomberg.
"It's crucially important for boards, including independent directors, to consider that their views and positions ensure that the future of Tata companies is protected, taking into consideration the interest of all stakeholders," Tata Sons said in a statement on Sunday.
— With assistance by Siddharth Vikram Philip
Before it's here, it's on the Bloomberg Terminal.
LEARN MORE