Korea's Park to Meet Opposition Chief After Agreement on Probe
By
Legislative leaders agree to special prosecutor for president

Impeachment threat grows in wake of huge weekend protests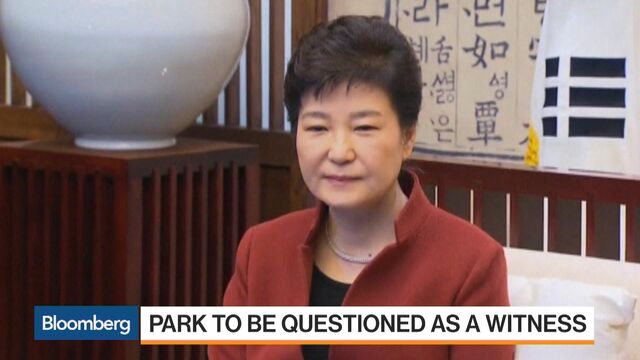 President Park Geun-hye will meet with South Korea's main opposition leader Tuesday after legislative leaders agreed to appoint a special prosecutor to investigate an influence-peddling scandal threatening her grip on power.
The deal Monday between Park's Saenuri Party and opposition groups paves the way for an independent probe against the president, who is the first South Korean leader to be investigated while in office. Park agreed to meet with Democratic Party of Korea leader Choo Mi-ae after hundreds of thousands of protesters gathered over the weekend to demand her resignation.
With about 16 months left in her single five-year term, Park has showed no signs of preparing to step down and lose her presidential immunity. Public anger is fanning calls for impeachment, even though the opposition lacks the two-thirds majority needed to remove her.
"Park is as good as already impeached in the minds of the public, but the question is how to formally bring it about," said Lee Eun-young, head of the Korea Society Opinion Institute and a public opinion analyst under former President Roh Moo-hyun, who survived an impeachment motion in 2004. "Even though more opposition members are calling for impeachment, that may just be a way of pressuring Park to resign."
The ruling party and two opposition groups, who together hold 288 seats in the 300-member parliament, agreed to pass a motion Thursday to appoint a special prosecutor, according to terms of an agreement released by the Democratic Party.
'Heavy Heart'
Park's office said Sunday that she had heard the voice of the people with a "heavy heart" after groups from farmers to youths took to the streets to demand her resignation. In a sign she intended to stay, Park said she was trying to fulfill her responsibilities as president and put government affairs back on track. 
Choo's party criticized Park on Monday, saying she was defying public will for her to resign. The party also urged prosecutors to press Park over her relationship with friend Choi Soon-sil, who received access to government documents.
Choi has been charged with attempted fraud as investigators expand their probe into Park, her aides and executives at some of South Korea's biggest companies, including Samsung Electronics Co. and Hyundai Motor Co. Prosecutors said they expected to question Park -- as a witness rather than a suspect -- on Tuesday or Wednesday.
Her office said she needed time to arrange her schedule and find a lawyer. South Korea's constitution gives presidents immunity from prosecution.
Election Trigger
While opposition parties have criticized Park for the scandal, they have been cautious about calling for her removal. If she were to step down or be ousted it would trigger a presidential election in 60 days, and there's no guarantee an opposition candidate would win.
Among potential presidential candidates, United Nations Secretary-General Ban Ki-moon has seen his popularity wane, according to opinion surveys. While Ban has not announced his candidacy, he has been touted as a potential contender for Saenuri. His term at the UN expires at the end of the year.
Another top contender is Moon Jae-in, the runner-up in the 2012 presidential election and a former leader of the main opposition Democratic Party of Korea. Moon was at Saturday's protest, saying he wanted to send a "stern warning" to Park and her party.
Ahn Cheol-soo, founder of the People's Party, went onto the streets on Saturday to seek signatures for a petition calling on Park to resign.

Even former supporters are turning against her. Kim Moo-sung, ex-leader of the ruling Saenuri Party, wrote in a social media posting on Sunday that it was time to impeach Park. Opposition parties control a combined 165 of 300 seats in the national assembly.
"We're facing this serious and hard-to-heal situation because the president, who should be committed to defending the Constitution, is suspected to be the body of the Constitution violation," he wrote.

Read more: For a story on the origins of the Choi family ties to Park, click here
The turmoil could lead to months of political distraction and, even if Park finishes her term, would likely mean protracted jostling ahead of the next election. The scandal has weakened the South Korean leadership as economic growth slumps and some of its biggest companies suffer embarrassing setbacks.
The Saturday protest produced a scene reminiscent of the 1987 pro-democracy rally that led the country's military leaders to adopt direct presidential elections. Protests against Park have grown since she first apologized last month for allowing friend Choi to access government documents.
"Her resignation would effectively mean that she's open to be investigated under arrest," said Park Tae-woo, a commentator and professor at Korea University's Institute of Sustainable Development. "If I were her, I'd find it very disturbing."
— With assistance by Sam Kim, and Jung Park
Before it's here, it's on the Bloomberg Terminal.
LEARN MORE