business
Russian-Friendly Presidential Win Ousts Bulgaria Government
By , , and
Premier resigns, calls for snap vote after opposition victory

Snap parliamentary ballot can be held March 2017 earliest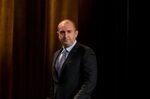 A Russian-friendly former Air Force chief won Bulgaria's presidential ballot, torpedoing the European Union country's government and adding to gains by anti-establishment political forces around the globe. 
Rumen Radev, a 53-year-old political novice, won 59 percent in Sunday's runoff, the electoral commission said Monday. A MiG fighter pilot running on the opposition Socialists' ticket, Radev defeated ruling-party candidate Tsetska Tsacheva, who won 36 percent. Prime Minister Boyko Borissov, leader of the Gerb party, tendered his government's resignation, following through on his vow to quit and push for early elections if his side lost.
After the U.K.'s Brexit referendum and Donald Trump's surprise U.S. election victory, Europe is facing a challenge from anti-establishment forces across the region as five western EU members prepare for elections in less than a year. Radev's victory, along with a pro-Russian candidate winning nearby Moldova's presidency on Sunday, adds to the political uncertainty and may play into the hands of Russian President Vladimir Putin as he seeks to reverse sanctions imposed over the conflict in Ukraine.
"Any form of uncertainty, any doubts about the path toward European integration and democratic reforms, plays into the Kremlin's hands," Joerg Forbrig, senior program director of the German Marshall Fund of the U.S. in Berlin, said by phone. "Russia is hoping to capitalize on this outcome."
Snap Vote
In Moldova, the Socialist Party's Igor Dodon, who campaigned on taking the country out of an EU trade agreement and into the ex-Soviet Eurasian Economic Union formed by Russia, won 52 percent in the election. The pro-European Action and Solidarity's Maia Sandu took 48 percent, according to preliminary results from the Central Electoral Commission.
Both there and in Bulgaria, the presidential posts are largely ceremonial and power is held by the prime minister. If Bulgaria's opposition Socialists refuse to form a government following Borissov's resignation, as they've said they will, Radev can dissolve parliament after taking office in January and call a snap election for March at the earliest. In Moldova, where a pro-EU coalition won the last elections in 2014, the president can dissolve the chamber in certain cases and call referendums.
'Russia's Candidate'
Borissov's resignation raises uncertainty and puts the EU's poorest country on track for its third early parliamentary elections in five years. The yield on the country's euro-denominated bonds maturing in September 2024 rose 9 basis points to 2.024 percent, the highest since July 14, at 11:14 a.m. in Sofia.
Radev prevailed after his rival, citing newspaper headlines in Moscow, branded him "Russia's candidate," making the Black Sea state's stance toward its Cold-War patron a leading campaign issue. The country of 7.2 million is trying to balance its religious, historical and other cultural ties with Russia, which is also its main energy supplier, with the priorities of its western allies in NATO and the EU. Bulgaria joined the military alliance in 2004 and the EU three years later.
Like his opponent Tsacheva, Radev campaigned on lifting EU and U.S. sanctions against Russia for its annexation of Crimea and backing of separatist rebels fighting the Ukrainian government in that country's east. He also pledged to fight corruption, strengthen the borders against immigrants and upgrade the military. Borissov's government also showed favor to Russia, rejecting a call by neighboring Romania for the North Atlantic Treaty Organization to set up a permanent Black Sea fleet in response to Russian aggression in Ukraine, arguing it would increase military tension and hurt tourism.
"Bulgaria isn't seen by the West as the most reliable NATO country," Lubomir Mitov, chief central and eastern Europe economist at UniCredit Bank in London, said by phone Nov. 13. "From now on the new president will be under close scrutiny. It's not in Bulgaria's interest to make a sharp turn in its foreign policy."
Holding a degree from the Air War College in the U.S., Radev has rejected the idea that he would swing Bulgaria's foreign policy eastward. The country has a "clear Euro-Atlantic orientation" that can't be reconsidered, he said before the vote. Russia is seeking to develop ties with Bulgaria, Kremlin spokesman Dmitry Peskov said on Monday.
Poverty, Graft
Low living standards and endemic corruption in both countries played a role. Consecutive governments in Bulgaria, where economic output per capita is less than half the EU average, have struggled to improve living standards, and Borissov slashed the budget deficit to zero from 3 percent of gross domestic product last year. His country is also the bloc's worst-ranked state on watchdog Transparency International's corruption-perceptions index. In the first round of the presidential ballot, about half of Bulgarian voters picked nationalists and populists among more than 20 candidates.
The vote in Moldova, a nation of 3.6 million wedged between Romania and Ukraine, took place a year after Europe's most-impoverished nation was plunged into crisis over a $1 billion bank fraud that led to the ouster of Prime Minister Valeriu Strelet. The theft, equal to an eighth of Moldova's economic output, forced authorities to seek international aid to avert bankruptcy and to concede the restoration of direct presidential elections amid angry street protests over corruption.
The country has a breakaway region, Transnistria, which appealed to Putin for recognition in 2014. For the past seven years, Moldova's ruling coalitions have tilted the country away from Russia and toward closer ties with the EU, joining Ukraine and Georgia in signing association agreements with the bloc in 2014. In return, Russia imposed restrictions on Moldovan food imports.
In a sign of the new outreach to Moscow, the president-elect, Dodon, will make his first official visit as head of state to Russia, Russian state-run RIA Novosti news service reported, citing his campaign office.
(
Updates with Bulgarian results in second paragraph, Moldovan president-elect to visit Russia in last.
)
Before it's here, it's on the Bloomberg Terminal.
LEARN MORE