Australia Strikes Deal to Resettle Asylum Seekers in U.S.
By
Offer open only to refugees currently on Nauru, Manus Island

Future boats will be intercepted, turned back, Turnbull says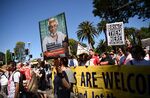 Australia has struck a deal with the U.S. to resettle asylum seekers being held on Manus Island and Nauru.
The agreement is a one-off that will be available only to refugees currently in processing centers, Prime Minister Malcolm Turnbull said in Canberra on Sunday. The priority will be the resettlement of women, children and families, and would exclude those deemed to be economic refugees, he said.
The resettlement deal was struck with the current U.S. administration, Turnbull said, refusing to be drawn on how it may be affected by the election victory of Donald Trump, who vowed during the Presidential campaign to stop the entry of refugees and other migrants from the Muslim world.
Turnbull's Liberal-National coalition won power in 2013 vowing to stop a surge of refugees, some of whom drowned attempting to arrive in Australia by sea, often ferried in rickety boats by people smugglers from Indonesia. While the policy of sending them to Manus Island and Nauru has halted the flow, and cut the number of refugees drowning at sea, it has been condemned by bodies such as the United Nations for breaching human rights.
In an effort to deter boat arrivals resuming, Turnbull said resettlement will not be offered to any future asylum seekers. 
The government will also deploy the largest maritime surveillance and response effort in peacetime to intercept and turn back boats, Turnbull said at a media conference in Sydney on Monday, acknowledging people smugglers may use the resettlement deal to entice asylum seekers to make the dangerous sea journey to Australia.
Clear Message
"We need to send the clearest and most unequivocal message to people smugglers and their would-be passengers that if they seek to come to Australia unlawfully, they will not succeed," Turnbull said on Sunday. "Australia's border protection policy has not changed."
Refugees who refuse to be resettled will be sent to the remote Pacific island of Nauru. The Australian government is in talks with Nauru to offer a 20-year visa to refugees. Turnbull said people who aren't deemed to be genuine refugees should return to their homeland.
There are about 1,600 asylum seekers on Nauru and Papua New Guinea's Manus Island who are eligible for resettlement. Turnbull declined to say how many would be taken by the U.S.
U.S. authorities will conduct their own assessments of the refugees, including health and security checks, to decide who will be resettled.
Closing Manus
In April, Papua New Guinea said it will close the Manus Island processing center after the nation's Supreme Court ruled detaining the refugees was unconstitutional.
"This is a critically important step" to enabling the camp to be closed, Turnbull told Channel Nine television on Monday.
The agreement was welcomed by the United Nations High Commissioner for Refugees.
"The approach taken by Australia in transferring refugees and asylum-seekers to open-ended detention in Papua New Guinea and Nauru has caused immense harm to vulnerable people who have sought asylum since 2013," the UNHCR said in a statement on Sunday. The deal "reflects a much-needed, long-term solution," the agency said.
Before it's here, it's on the Bloomberg Terminal.
LEARN MORE