'Dr. Strange' Beats 3 New Releases to Hold Box-Office Lead
by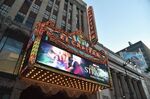 Walt Disney Co.'s "Doctor Strange" led the box office in North America for a second weekend, turning back challenges from three new releases.
The superhero tale from Disney's Marvel studio collected an estimated $43 million in weekend sales in the U.S. and Canada, ComScore Inc. said Sunday in an e-mailed statement. "Arrival," a sci-fi movie from Viacom Inc.'s Paramount Pictures, landed in third place while the comedy "Almost Christmas" placed fourth and the thriller "Shut In" opened in seventh place.

Though Dr. Strange isn't as well-known a character as Iron Man or Captain America, the movie is showing staying power. The film, which some analysts expected to add $40 million this weekend, is helping Disney pad a record year at the box office. To date, the studio has crossed $6 billion in worldwide ticket sales, according to Disney, and still has another potential blockbuster with a "Star Wars" movie set for December.
"Arrival," featuring Amy Adams, opened with weekend sales of $24 million, beating Hollywood Stock Exchange's $16 million estimate. The film scored 93 percent positive reviews.
Adams plays a linguist who is recruited by the government to communicate with aliens that have landed on Earth. The movie cost $47 million to make, not including marketing costs, according to Box Office Mojo. Mock traders on website Hollywood Stock Exchange pegged the debut of "Arrival" at $22 million.

"Almost Christmas" collected $15.6 million for Comcast Corp.'s Universal Pictures, missing the $16.5 million prediction of analysts at BoxOfficePro.com. The third new wide release, EuropaCorp's thriller "Shut In," features Naomi Watts as a widowed child psychologist who is trying to save a young boy while both are caught in a deadly winter storm. It generated sales of $3.7 million, just topping a $3.5 million estimate at BoxOfficePro.

Before it's here, it's on the Bloomberg Terminal.
LEARN MORE