markets
Dollar Bloodbath Turns Bonanza as Fiscal Spark Seen in Trump Win
By
Greenback stages biggest weekly rally since September 2011

Gains defy consensus that Trump triumph would trigger tumble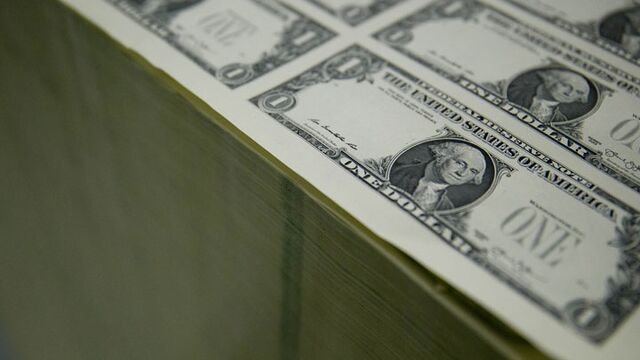 The consensus in the $5.1 trillion-a-day currency market couldn't have been more wrong.
The widely held view was that a victory by Donald Trump in the U.S. presidential election would spur a dollar rout as investors anticipated uncertainty and financial-market volatility that would cause the Federal Reserve to delay interest-rate increases. Yet the real estate magnate's upset win triggered the opposite reaction -- a bonanza for greenback bulls and one of the most stunning rallies since the financial crisis.
Scott Petruska, a three-decade veteran of the foreign-exchange industry, counts himself among those who didn't anticipate the Republican sweep of Congress that accompanied Trump's triumph. Investors are betting the power of the executive and legislative branches combined will open the fiscal tap, boosting economic growth and spurring faster inflation. The net result of that scenario is that expectations are mounting for a higher Fed rate target, boosting the appeal of holding dollars.

"It probably ranks as one of the biggest surprises in the currency market in the past 30 years," said Petruska, a Newton, Massachusetts-based senior adviser at SVB Financial Group. "We have a Republican president and a Republican Congress -- things may actually happen after eight years of gridlock in Washington."
The Bloomberg Dollar Spot Index, which tracks the currency against 10 major peers, surged almost 2.8 percent this week, the most since September 2011. Gains were steepest against emerging-market currencies, including a 9.6 percent appreciation against the Mexican peso.
Consensus Defied
The most accurate forecasters in a recent Bloomberg survey had predicted more than a 5 percent slump in the dollar against the yen should Trump win. On election night, the greenback tumbled as much as 3.8 percent, then soared as investors turned their focus to Trump policies seen as spurring growth and inflation.
His pledges include spending from about $500 billion to $1 trillion over a decade on roads, bridges and airports. He said in his victory speech that he aims to make America's infrastructure "second to none" while putting millions of people to work and doubling economic growth.
Traders see an 84 percent chance the Fed will increase rates at its December meeting, up from 76 percent at the end of last week, according to data compiled by Bloomberg based on futures.
To JPMorgan Chase & Co., the world's second-biggest currency trader, some of the president-elect's policies may serve to drive the dollar even higher against emerging-market counterparts.
He's been relatively silent in recent days regarding the protectionist trade measures that helped him defeat Democrat Hillary Clinton -- the kind of policy that may spur a trade war. Yet that reprieve may not last, according to John Normand, JPMorgan's head of foreign-exchange, commodities and international rates research. Any souring in trade relations would boost the greenback against emerging-market peers on the prospect of a slowdown in business with developing nations.
"Trade may be dormant for no more than a couple of months, and motivates our recommendations" to be bullish on the dollar against Asian currencies like the South Korean won, Normand said in a report Thursday.
Before it's here, it's on the Bloomberg Terminal.
LEARN MORE