United Nations Sees Risk of Genocide in South Sudan Conflict
by
Civilians being targeted along ethnic lines, UN adviser says

Such violence could escalate if no action is taken: Dieng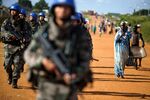 South Sudan faces the risk of genocide if violence in the oil-producing nation escalates, the United Nations said.
Civilians in the East African nation are being targeted along ethnic lines as the media is used to polarize communities, Adama Dieng, the UN special adviser on the prevention of genocide, told reporters Friday in the capital, Juba. Dieng ended a five-day visit to the country where he met government representatives, UN mission officials, civil society groups and community members.
"The signs are all there for these ethnic targeting that could evolve into genocide if action is not taken," Dieng said. "There is a strong risk of violence escalating along ethnic lines with a strong risk of genocide."
South Sudan, the world's newest country, descended into a civil war in December 2013 that's claimed tens of thousands of lives and forced more than 1 million to flee to neighboring nations. A transitional government that sought to end the conflict was thrown into turmoil in July when the main rebel leader-turned vice president fled Juba amid renewed fighting.
The European Union on Friday said it's giving 78 million euros ($84.8 million) in emergency aid to help those affected by the civil war. Humanitarian groups in South Sudan will receive 40 million euros, while 30 million euros will assist those sheltering in neighboring Uganda, according to the European Commission's website. The remaining 8 million euros will be allocated to Sudan, which hosts more than 250,000 of the refugees.
Before it's here, it's on the Bloomberg Terminal.
LEARN MORE