It's All Bullish in the End as Stocks Post Best Week Since 2014
By
Stocks rose when Clinton was ahead. They rose when Trump won.

In the middle was a gut-wrenching election night tumble.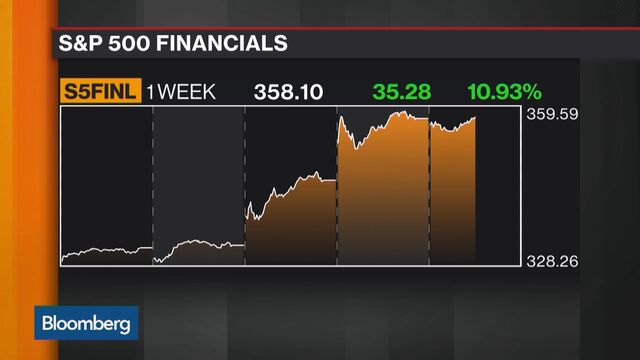 A stretch that goes down as the best week for U.S. stocks in two years has been anything but easy money for the traders who had to navigate it.
Three distinct narratives have driven trading, combining to lift the S&P 500 Index more than any time since 2014 and give the Dow Jones Industrial Average its best week in five years. Stocks rallied on Monday and Tuesday on speculation Hillary Clinton would win the presidency, then posted almost equally big gains Wednesday and Thursday as investors warmed to Donald Trump's fiscal stimulus policies.
The week ended on a down note for the S&P 500, as gains in banks and drug stocks were pared. In the middle was an hour-long election night plunge that would've lopped $1 trillion from the S&P 500 had it come during regular trading hours.
"The last two to three days have had everything to do with re-pricing in a complete regime change," said Kevin Caron, a Florham Park, New Jersey-based market strategist and portfolio manager who helps oversee $180 billion at Stifel Nicolaus & Co. "You have markets that now have to contend with the idea of a much larger fiscal push then they were expecting just a few days ago. You're seeing a big rally in economically sensitive assets."
The S&P 500 rose 3.8 percent in the five days, while the Dow rallied 959.38 points for its best week since 2011. Small caps in the Russell 2000 Index surged 10 percent. The Nasdaq 100 Index added 1.5 percent.
Along the way, the Dow also closed at record for the first time in three months as investors snapped up what they calculated would be beneficiaries of a Trump presidency. The surge in stocks following a presidential election echoed 1996 and 1972, when the blue-chip index made fresh highs after victories by Bill Clinton and Richard Nixon.
Exchange-traded funds tracking U.S. equities took in $16.3 billion of fresh cash on Wednesday and Thursday, data compiled by Bloomberg show. It included $8 billion of inflows into a security tracking the S&P 500 that was the biggest in 14 months. It was the first week in history that had two days with more than 12 billion shares traded.
It's only 72 hours after the election but going by reactions in big chunks of the stock market, investors aren't waiting around to find out how hard it will be for Trump to enact his economic agenda. They're shooting first without a clear read on how strong a tie he'll forge with the Republican Congress, a key to getting potentially deficit-swelling proposals like tax cuts and spending implemented.
Banks surged 11 percent in the five days, the most since 2009, on speculation that the president-elect and Republican-controlled Congress will roll back regulations. Trump's promise to revive the nation's infrastructure sent industrial shares soaring more than 7.5 percent, with commodities needed for everything from airports to bridges expected to benefit, according to Goldman Sachs Group Inc.
Small caps also benefited from the election news, extending a rally to six days and leaving the Russell 1 percent below an all-time high it hasn't eclipsed in 18 months. The reason may be speculation Trump's homeward-looking policies will favor the more domestic-focused index. At the same time, looser financial regulations touted by Trump could provide a relief to banks and insurers, which have a heavier weighting in the Russell 2000 than in the S&P 500.
While technology shares in the benchmark index finished the week up 1 percent, the sector slipped 1.6 percent on Thursday amid concern that Trump's overseas trade policies would crimp profitability for a group that thrives overseas. All four stocks in the FANG block of Facebook Inc., Amazon.com Inc., Netflix Inc. and Google parent Alphabet Inc. showed losses for the week.
"They were simply a victim of a shift in sector leadership," said Richard Sichel, chief investment officer at Philadelphia Trust Co., which oversees $2 billion. "Investors took some profits and moved money into other sectors. It doesn't necessarily mean tech is going to be a negative place to be going forward -- it's still a driver of productivity and represents exciting things ahead for the economy."
Violent swings this week were almost too numerous to count. While bonds sold off and 10-year yields climbed above 2 percent, stocks whose high payouts have aligned them with fixed-income markets tanked. Utilities fell 4 percent on the week. Makers of consumer necessities dropped 2.1 percent.
At the other end, encouraged that Clinton's promises to investigate drug pricing are off the table, an S&P index of pharmaceuticals companies gauge jumped 11 percent, the most in data going back to 1999.
Individual stocks were no less volatile. Navient Corp., a servicer of student loans, jumped 28 percent, possibly reflecting speculation that regulatory pressure will ease on for-profit colleges now that the founder of Trump University is president.
Freeport-McMoRan Inc. jumped 26 percent as copper saw its biggest gain in seven years. Kohl's Corp. rose 24 percent after the department store chain's third quarter earnings were 10 cents ahead of analyst per-share estimates. Martin Marietta Materials Inc., which sells to the construction industry, added 19 percent on speculation infrastructure spending will jump.
"There are definitely some things to be concerned about, and there's definitely some uncertainty going forward," said Matt Maley, an equity strategist at Miller Tabak & Co. LLC in New York. "But boy, the market has held up well considering what people thought was going to be a disaster."
Investors are also considering what a Trump presidency means for Federal Reserve policy and the trajectory of interest rates. Odds for a December increase in borrowing costs have risen to 80 percent from 78 percent a week ago. Rate-sensitive corners of the equity market have been punished. Utilities, real-estate investment trusts and consumer staples -- stocks that have been coveted for their high dividend payout as a source of income amid record-low bond yields -- have all retreated over the past five days.
— With assistance by Rebecca Spalding, and John Hyland
Before it's here, it's on the Bloomberg Terminal.
LEARN MORE