Tata-Mistry Rift Deepened by Sexual Harassment Case, ET Reports
By and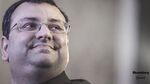 Sexual harassment allegations against the chief executive officer of Tata Group's hotel unit may have contributed to last month's firing of the conglomerate's chairman, the Economic Times reported, citing a letter and people familiar with the matter.
The case involved an unidentified female official who alleged she was repeatedly subject to unwanted sexual advances from Indian Hotels Co. CEO Rakesh Sarna, who was appointed by the recently ousted group Chairman Cyrus Mistry, according to the report. Though the woman flagged her case to senior officials at the parent group, including Mistry, she quit in November last year after being offered a reassignment that she deemed to be a demotion, according to the report.
Mistry's office on Friday acknowledged sexual harassment allegations were made against an unidentified senior Indian Hotels official, while defending the ousted chairman's handling of the case. Tata Group directed queries to Indian Hotels, which acknowledged an internal investigation is under way, but declined to identify any of those involved or nature of the case. Sarna wasn't available for comment.
The handling of the case turned into a source of friction between Mistry and his predecessor Ratan Tata, who criticized the group's response on the matter and whose involvement led to the start of an independent probe, according to the Economic Times report. Tata Group ousted Mistry in late October, though the conglomerate didn't mention any sexual harassment case.
Upon learning about the allegations, Mistry met with the plaintiff and told her that the group would be committed to supporting her and took steps to move the woman to another position while the case gets investigated, according to a statement from Mistry's office on Friday, which didn't identify any individuals.
The plaintiff quit after being offered a senior position in the corporate communications team, according to the statement. Mistry has since formed a committee to investigate the matter and ordered the review of sexual harassment policies across Tata Group companies, it said.
"The company has a strict code of conduct under which an independent committee has been set up to inquire into an issue received from an ex-employee," an Indian Hotels spokeswoman said. "Given the sensitivity of the matter and the obligations to keep the matter confidential, no further details can be shared."
Before it's here, it's on the Bloomberg Terminal.
LEARN MORE