Tata Chemicals Director Quits Amid Dispute With Company Board
By and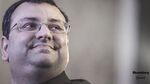 Tata Chemicals Ltd. non-executive director Bhaskar Bhat resigned following disagreements with other board members, intensifying a leadership feud at India's largest conglomerate.
"There are several risks Tata Chemicals faces on account of the loss of confidence of Tata Sons in Cyrus Mistry and his removal as chairman of that company," Bhat, a non-independent director at the Tata Group unit, said in a phone interview on Friday, a day after he quit. "There were no discussions addressing these risks and the independent directors went on instead to make a statement which did not take into account my views. I therefore felt that I could no longer contribute to the board and choose to resign."
In an exchange statement Thursday, Tata Chemicals independent directors voiced confidence in the leadership of Mistry, who remains chairman of the soda ash producer, and reaffirmed decisions taken by him. Mistry was abruptly ousted last month as chairman of the parent group, India's biggest conglomerate, kicking off the nation's largest corporate brawl in years.
Bhat is also managing director of Titan Co., a jewelry manufacturer backed by Tata Group. His resignation comes as Ratan Tata, who abruptly seized back control of India's largest conglomerate last month, seeks to remove disgruntled successor Mistry from other group units and tightens his grip over the family's $100 billion business empire.
Tata Group said on Thursday that Mistry was working with independent directors to take control of Indian Hotels Co., owner of the Pierre in New York, as well as other group companies. Mistry's office declined to comment.
Before it's here, it's on the Bloomberg Terminal.
LEARN MORE