Six Killed in Taliban Attack on German Consulate in Afghanistan
By and
Afghan civilians and security personnel among victims

Instability in Afghanistan causing flow of refugees to Europe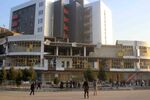 Heavily armed Taliban militants attacked the German consulate in the northern Afghan city of Mazar-i-Sharif late on Thursday, killing and injuring Afghan personnel before being repelled by special forces.
The assault left at least six dead and "very many" injured after German and Afghan security forces pressed back assailants on the grounds and in the consulate building in Afghanistan's third-largest city, German Foreign Minister Frank-Walter Steinmeier told reporters Friday in Berlin. Deutsche Presse-Agentur put the number of injured at more than 120.
"Those who've seen pictures of the destruction can hardly be surprised by the sad news that people were killed in this attack and very, very many were hurt," Steinmeier said.
Taliban fighters detonated a truck bomb in front of the German consulate on Thursday night in retaliation for the country's alleged assistance with a U.S. air raid in Kunduz on Nov. 3 by providing intelligence, Taliban spokesman Zabiullah Mujahid told DPA. That attack earlier this month killed more than 30 civilians. No Germans were hurt in Thursday's bombing.
Security personnel from Germany, Georgia, Belgium and Latvia -- members of the NATO-led Resolute Support mission to provide training to Afghan forces -- were also involved in repelling the attack, Steinmeier said.
While the U.S. and its NATO allies officially ended their war in Afghanistan two years ago, the goal of stabilizing the country has not yet been achieved, delaying the exit of troops from the ravaged nation and prompting a stream of refugees into Europe. As of October, there were still 13,200 foreign troops in Afghanistan, 9,800 of them American, supporting a local government that faces intensifying attacks from the Taliban, the Islamic fundamentalists who once ruled the country.
In a statement, the Taliban said the attack on the consulate was "revenge" for the one in Kunduz, and described Germany as an "invading nation," DPA reported.