South Korea Urges Calm as Protesters Plan March on Park's Office
by
Organizers expect Saturday's rally to be biggest since 2008

Park's approval at lowest point for any South Korean leader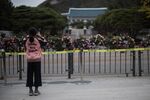 South Korea urged protesters seeking scandal-hit President Park Geun-hye's resignation to show restraint at a mass march on her complex planned for the weekend.
"The government is concerned that the coming rally may perhaps turn violent and illegal, damaging a healthy space for expressing views," Deputy Prime Minister Lee Joon-sik told reporters in Seoul on Friday.
Organizers expect as many as half a million people to join the demonstration starting at a central Seoul square, just a kilometer from the Blue House. It would be the country's biggest rally since 2008 when South Koreans protested then-President Lee Myung-bak's decision to resume U.S. beef imports. Police estimate a crowd of about 170,000.

Protesters plan to march in the evening to a historical royal palace in front of the Blue House, Nam Jeong-su, a spokesman for the Korean Confederation of Trade Unions, one of the organizing groups, said by phone. No violence is expected, he said. Last week police estimate a crowd of around 43,000 people marched against Park, although protest organisers said about 130,000 people turned out, the Associated Press reported.
The scale of the weekend rallies has been growing since Park apologized last month and acknowledged she consulted her friend, Choi Soon-sil, on "some documents" for a period after taking office in 2013. Opposition lawmakers contend Choi, who has been arrested on suspicion of attempted fraud and abuse of authority, intervened more extensively in government affairs.
Prosecutors are also questioning a former Park adviser over whether he placed undue pressure on some of the country's biggest companies to donate tens of millions of dollars to foundations controlled by Choi. Park said in her second apology last week that she would submit herself to an investigation if necessary.
Park's approval rating remained at an all-time low of 5 percent, Gallup Korea said in a weekly poll released Friday. About 60 percent of respondents told a Realmeter survey earlier this week that she should step down or be impeached.
Park has about 16 months remaining in her single, five-year term.
Before it's here, it's on the Bloomberg Terminal.
LEARN MORE