benchmark
Roll Over Miami, Argentina Has Found a New Shopper's Paradise
Argentines finally have the dollars for Chile's cheaper goods
By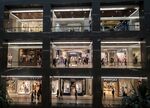 President Mauricio Macri's policies have unleashed a retail sales boom—unfortunately for the Argentine leader it is in neighboring Chile.
Since Macri came to office and removed exchange controls in December, Argentinians have poured across the border to snap up bargains in the shopping malls of Santiago and other cities. 

The bonanza couldn't have come at a better time for Chile as three years of sluggish economic growth weigh on retail sales. Shops that depend on domestic demand, such as furniture stores, have seen sales decline, while goods popular with Argentines, such as computers, mobile phones and white goods, have seen a jump in sales. 




Argentines regularly flock to Chile to enjoy the beaches along the central coast. But as numbers began to rise last year, more and more noticed something weird -- everything in the shops was half the price, or even cheaper. If only they could get hold of enough foreign currency to buy them. Then Macri came.

Within days, the new president ended the need for Argentines to seek tax-agency approval to buy a limited amount of dollars for travel or savings. People immediately rushed to buy foreign currency, even as the peso tumbled as much as 30 percent against the dollar in one day. 

As soon as they had the funds, they came to Chile to spend them and tourist numbers soared.





Bargains aren't hard to find in Chile when compared with Argentina. A Samsung 55-inch, curved, LED television in Chile will cost you $689 at the department store Falabella, while the same company sells the same product in Argentina for $2,300. 

The reason is Argentina's stringent set of import regulations, including a 35 percent tariff on computers, mobile phones and other electronics, plus a wealth of smaller taxes. Chile by contrast has 26 trade agreements with China, the U.S. and blocs including the European Union, meaning you can find almost any brand you want and at a price similar to the U.S. or Europe. 

For some accounts of the Argentines flocking to Chile, click here.

``Chile is the new Miami,'' said Marcelo Alonso, an Argentine shopper at the Costanera Center shopping mall in Santiago.  ``It truly is like Miami, but just a bit closer.''


(
For more news and economic analysis, see Benchmark.
)
Before it's here, it's on the Bloomberg Terminal.
LEARN MORE