Rebekah Mercer, Daughter of Major Donor, Named to Trump Role
By
Mercer is one of 16 on transition team executive committee

Her father Robert is among Trump's top financial backers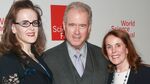 Rebekah Mercer, whose wealthy family has sought for years to reshape conservative politics with a populist, anti-establishment message, was named to President-Elect Donald Trump's transition team.
Mercer, the 42-year-old daughter of New York hedge-fund manager Robert Mercer, will serve as one of 16 members of the team's executive committee, the group said in a statement Friday. It's a sign of how the Mercers' longstanding effort to influence the direction of the Republican Party is paying off.
Robert Mercer made his fortune as co-CEO of Renaissance Technologies, one of the most profitable hedge funds in history. Armed with her father's money, Rebekah Mercer oversaw a pro-Trump political action committee that poured millions of dollars into advertising during the run-up to Tuesday's election.
And two of the family's closest political advisers, Stephen Bannon and Kellyanne Conway, guided the Trump campaign to victory over its final months and are now positioned for senior roles in the Trump administration. Through spokesmen, both Mercers declined to comment.
Rebekah Mercer is a mother of four and a political rookie whose previous experience includes working as a Wall Street trader and operating a gourmet cookie company. Beginning in 2010, her father started pouring millions of dollars into conservative causes, and Rebekah handled the details of his political and charitable projects.
Before this week, many of their biggest political efforts ended in failure, including support for Mitt Romney, the Republican presidential nominee in 2012, and for Ted Cruz in this election cycle's Republican primary.
Trump was a victory for the family on several fronts. They helped fund a 2015 book, "Clinton Cash," by Peter Schweizer, that highlighted conflicts of interest involving Hillary Clinton and her family's foundation -- conflicts that Trump drew on to shape his message. This year, Rebekah Mercer was a co-executive producer of a "Clinton Cash" movie.
And the Mercers are key investors in Cambridge Analytica, a data and analytics company that uses "psychographic" models to target individual voters based on their personality types.
Some previous clients have questioned the effectiveness of the company's work, but Rebekah Mercer encourages politicians and campaigns that benefit from her family's money to give Cambridge a try. Originally skeptical of the company's pitch, the Trump campaign hired it around the same time that the Mercers shifted their financial support into Trump's column earlier this year.
Cambridge is already bragging about its role in a historic electoral upset. The timing is especially good because the company is gearing up for a long-planned push into commercial advertising following the election. "We are thrilled that our revolutionary approach to data-driven communications played such an integral part" in Trump's victory, Alexander Nix, the Cambridge CEO, said in a statement this week.
The Mercer family also has a financial stake in Breitbart News, the populist media outlet that was run by Bannon before he joined the Trump campaign. An ardent advocate for Trump, the site shattered traffic records during the campaign, and reached 37 million unique visitors in October.
The Mercers keep a low profile and have never spoken publicly about their political views outside of a series of written statements they made during the course of this year. The statements mention their opposition to gun control and "open borders and open trade."
"America is finally fed up and disgusted with its political elite," the Mercers said in an Oct. 8 statement. "Trump is channeling this disgust and those among the political elite who quake before the boom-box of media blather do not appreciate the apocalyptic choice that America faces."
Robert Mercer is intrigued by monetary policy and, in years past, has funded efforts to try to resurrect the gold standard. One sign that his views may get some traction in the administration: in August, Trump added economist Judy Shelton to his advisory team. Shelton is a well-known advocate for the gold standard, and spoke at a Mercer-funded conference on the topic in Wyoming last year.
One thing to keep an eye on during the Trump administration: the resolution of a long-running tax dispute between Renaissance Technologies and the Internal Revenue Service. The tax agency is challenging a series of financial maneuvers that reduced Renaissance managers' tax bills. Although the amount in dispute isn't public, a Senate report in 2014 estimated that the moves may have saved $6 billion or more.
The dispute has languished in internal IRS litigation for years, and a person with knowledge of the matter said it's still unresolved. Were Renaissance to prevail, however, Mercer wouldn't be the only one to celebrate. Renaissance's founder and chairman, James Simons, is a leading Democratic donor who spent at least $7 million supporting Hillary Clinton.
Before it's here, it's on the Bloomberg Terminal.
LEARN MORE