Rand Set for Biggest Weekly Slump Since August as Bonds Dumped
By
Foreign investors sell most South African bonds since 2011

Rand volatility jumps to highest among emerging market peers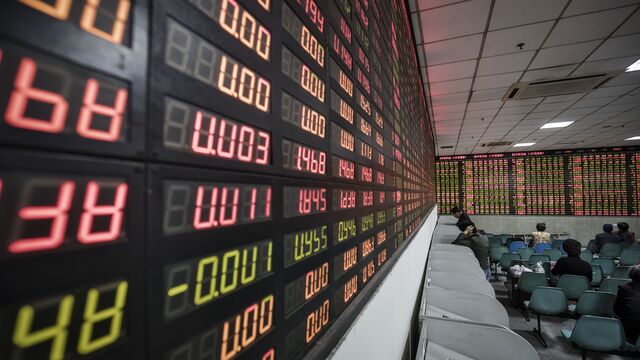 South Africa's rand extended losses to a third day and headed for the biggest weekly slump since August on concerns that Donald Trump will pursue policies that will spur capital outflows from developing economies and weaken their exports.
The rand fell as much as 2.5 percent before trading 1.4 percent weaker at 14.3120 per dollar by 3:30 p.m. in Johannesburg. The weekly decline of 5.1 percent is the most since the five days ended Aug. 26, when local markets were roiled by concerns that Finance Minister Pravin Gordhan would be arrested. The most the rand had lost before that was in December, when President Jacob Zuma fired then-Finance Minister Nhlanhla Nene. Three-month implied volatility on the rand is at the highest since Oct. 17 and the most among emerging markets.

Trump has signaled he'll adopt more protectionist trade policies, while introducing fiscal stimulus that's likely to hasten U.S. interest-rate increases that would draw investment to the dollar and away from high-yielding emerging-market currencies. Offshore investors sold 5 billion rand ($349 million) of South African government rand bonds on Thursday, the most since September 2011, amid a selloff that wiped $1 trillion off global bond markets.
"The markets suspect that Trump will likely be dollar positive, reflating through fiscal policy, and protectionist," said Nigel Rendell, a senior emerging-markets analyst at Medley Global Advisors LLC in London. "That boils down to higher U.S. interest rates and less trade opportunities for emerging-market economies. Until we know more about what a Trump presidency will be like, the policies and personalities, it will be difficult for emerging-market currencies, including the rand, to carve out an independent path."
Carry Unwinds
South African government bonds fell for a third day, with the yield on 10-year rand notes rising 11 basis points to 9.1 percent, the highest almost five months on a closing basis. The yield on dollar bonds due September 2025 jumped 23 basis points to 4.8 percent and headed for the biggest weekly rise since December. The Treasury fell short of its 650 million rand target in a weekly auction of inflation-linked bonds on Friday, selling 275 million rand of securities.
The return earned by investors borrowing in dollars to buy rand assets has turned negative since Trump won the presidency on Nov. 8.
"What we have, generally speaking, since the U.S. election result, is that there is an unwinding of lots of carry trades, so carry is no longer a dominant factor for emerging-market currencies," said Murat Toprak, HSBC's head of currency strategy for emerging markets in Europe, the Middle East and Africa. "When you have a steeper curve in the U.S., when you have core yields in Europe going up, the attractiveness of emerging-market assets tends to decline."
Foreigners sold the most South African stocks in three weeks, while the main Johannesburg stock index slumped 2 percent, heading for its first decline this week.