Macy's and Kohl's Have Good News on Wage Growth
Extra money for stocking stuffers this year.
by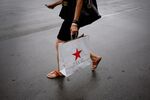 Last quarter, it was Starbucks Corp. and Chipotle Mexican Grill Inc. that were talking about the challenge of rising wages. This time around, it's retailers that are noticing the effects ahead of their most important quarter of the year: the holiday shopping season.
Both Macy's Inc. and J.C. Penney Co. reported earnings this week and faced questions about employee wage pressures as staffing levels increase for the holiday months. 
Macy's Chief Financial Officer Karen Hoguet says that the firm is working to find ways to mitigate rising wages. 
"Also, obviously, wage pressure, particularly in the field, is an issue. But we are working hard to find offsets to all of that."
However, at the Goldman Sachs Group Inc. retail conference in September, Macy's CEO Terry Lundgren pointed out that the firm already pays above minimum wage in a number of roles already, so this is less likely to impact them versus other stores that are not in that position:
"Yeah, I think it [wage growth] is clearly on the agenda for lots of conversations. And what I would say is that we are in a position where we pay above minimum wage, so it's less likely to hurt a company like ours than perhaps a lower channel company."
Kohl's Chief Financial Officer Wesley McDonald also said wages will be an issue for the firm. 
"Headwinds in the fourth quarter continue to be as expected around store payroll due to wage inflation and continued use of store associates to fill digital demand as well as a timing difference in incentive compensation versus last year."
While there are a number of ways to track wage growth, a popular measure from the Federal Reserve Bank of Atlanta shows wages continuing to pick up and the economy heads into the all-important final months of the year.

Before it's here, it's on the Bloomberg Terminal.
LEARN MORE