Macy's and Kohl's Have Good News on Wage Growth
Extra money for stocking stuffers this year.
By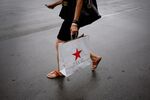 Last quarter, it was Starbucks Corp. and Chipotle Mexican Grill Inc. that were talking about the challenge of rising wages. This time around, it's retailers that are noticing the effects ahead of their most important quarter of the year: the holiday shopping season.