Italy's Bonds Tumble as Trump Win Boosts Referendum Concern
by
Europe's bonds drop as global slump persists on inflation view

Italy's 10-year yield exceeds 2% for first time this year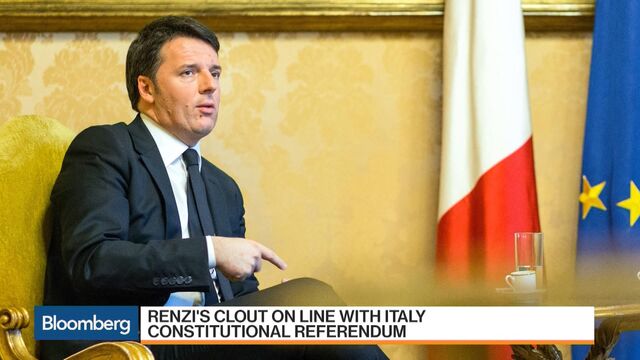 Italy's government bonds led declines as a rout in fixed income continued Friday, with the nation's 10-year yield climbing above 2 percent for the first time since September 2015.
Global bonds have tumbled after Republican candidate Donald Trump's triumph boosted the view that the U.S. government will ramp up spending and potentially widen the budget deficit, stoking inflation. The selloff has been particularly acute in Italy, amid concerns that the anti-establishment wave that propelled Trump into power could spill across to December's constitutional referendum, where a defeat for Prime Minister Matteo Renzi could threaten political stability.

A string of recent surveys have signaled Italians would vote against the reforms. Italian 10-year bonds headed for a third straight weekly decline, with yields surging 65 basis points since Oct. 21, the most in that period since December 2011. German 10-year bunds also fell this week, with the yield touching its highest level since February.
Bonds are falling as "the market is very much speculating on a huge fiscal stimulus and higher growth," said Daniel Lenz, a market strategist at DZ Bank AG in Frankfurt.
Italy's 10-year bond yield climbed 12 basis points, or 0.12 percentage point, to 2.02 percent as of the 5 p.m. close in London, after touching 2.06 percent. The yield increased 27 basis points this week, the biggest jump since November 2015. The 1.25 percent security due in December 2026 dropped 1.065, or 10.65 euros per 1,000-euro ($1,084) face amount, to 93.12.
The yield on benchmark German 10-year bunds rose three basis points to 0.31 percent, having earlier touched 0.35 percent, while that on similar-maturity Spanish bonds increased eight basis points to 1.47 percent.
Bond Auctions
Italy's borrowing costs rose at an auction of 30-year debt Friday. Long-dated securities are the most sensitive to the outlook for inflation, which erodes the value of fixed-income payments from bonds.
The Rome-based Treasury allotted 1.3 billion euros of securities due in March 2047 at an average yield of 3.14 percent. That compares with 2.28 percent at a previous auction on Sept. 13 and is the highest for a sale of 30-year bonds since July 2015. The nation also sold debt due in 2019, 2023 and 2040.
S&P Global Ratings' left Italy's credit grade and outlook unchanged in a review Friday, even as they lowered the nation's growth forecasts for this and next year.
Before it's here, it's on the Bloomberg Terminal.
LEARN MORE