Heli-Skiing Isn't Just for Adrenaline Junkies Anymore
Just you and a handful of friends on thousands of acres of backcountry.
By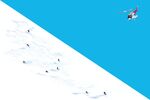 One thing you may have noticed on your last ski trip is people—lots of people. At large resorts such as Vail Mountain, in Colorado, where evermore efficient chairlifts deposit upwards of 50,000 skiers onto the slopes hourly, you're not exactly communing with nature. This helps explain the recent mainstreaming of heli-skiing, which gives you and about a half-dozen of your closest family members or friends private access to thousands of acres of backcountry.
The other thing that explains it: Hopping out of a helicopter and skiing untouched terrain isn't as insane as it looks when professionals film it with a GoPro. "I'm baffled when solid intermediate skiers tell me heli-skiing is on their bucket list, but that they need better skills before they can do it," says Alex Kittrell, lead guide at Sun Valley Heli-Ski in Idaho, which charges $1,450 a day for six runs. "Strong intermediates are having an easier time heli-skiing due to the equipment becoming so much more user-friendly," says Mike Sadan, general manager of Whistler Heli-Skiing, in British Columbia, whose packages start at about $740 for three runs. Wider, arced skis let you "float on the snow," he says. There are about 20 heli-skiing operators in the U.S. and two dozen in western Canada, where some companies own not only one chopper but a fleet.
Is heli-skiing an environmentally dubious practice? Absolutely. Can it trigger avalanches? Absolutely. Is it fun as hell? Absolutely. Hana Lynn, of Whistler, recently tried it for the first time with Sadan's company. After the helicopter dropped her off, she stood on the summit, awed by the view. "Then one guide went," says the 57-year-old, "and I watched as he just kind of floated down. I pictured myself doing the same thing. And then I went. It was just amazing."
Before it's here, it's on the Bloomberg Terminal.
LEARN MORE