From Gundlach to Hasenstab, Bond Bears See Vindication
by
Treasuries plunge as inflation expectations surge on Trump win

Selloff supports contrarian forecasts for higher U.S. yields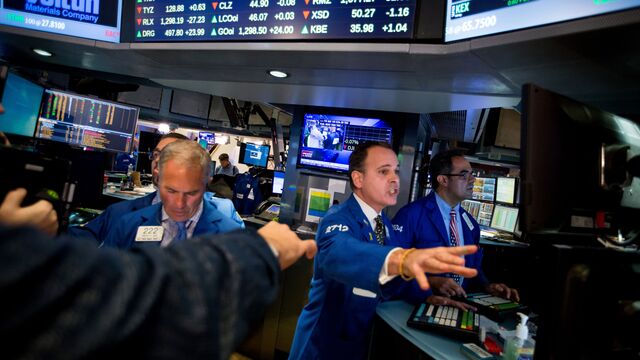 Some of the biggest bears in the $13.8 trillion Treasuries market are feeling a sense of vindication after Donald Trump's shock election win sent bonds plunging by the most in five years.
Prognosticators from DoubleLine Capital to Franklin Templeton, Loomis Sayles and Western Asset Management are turning out to be winners -- whether through genius or a stroke of luck -- after their contrarian calls for yields to rise gained fresh momentum this week. They contend Treasuries will remain a losing bet, saying investors will demand more compensation as Trump ramps up spending to boost the economy, stoking inflation and adding to the supply of government debt in the process.

This week's tumble comes after Treasuries had gained 3.8 percent in 2016 through Tuesday amid robust demand for U.S. assets as central banks abroad suppressed interest rates to combat slowing economic growth, pushing sovereign-debt yields to record lows. Analysts weren't expecting U.S. 10-year yields to reach Thursday's closing level of 2.15 percent until 2018, according to the weighted average forecast in a survey of 65 economists and strategists, which projects yields at 1.72 percent by year-end.
"The election results may be a paradigm shift in terms of the direction yields take," said Matt Eagan, a money manager at Loomis Sayles, which oversees $245 billion. "We've relied solely on monetary policy and now we're shifting toward fiscal policy. That means bigger fiscal deficits, a boost to the domestic economy and should cause rates to rise at a period when inflation is starting to pick up."
Changing Outlook
The bond market is beginning to reprice its long-held view that a protracted slump in growth and inflation would conspire to keep borrowing costs lower for longer. The term premium, a metric that reflects the extra compensation investors demand to hold longer-maturity debt instead of successive short-term securities, surged to highest since February after plunging to unprecedented levels in July. When adjusted for the level of inflation, real yields on 10-year Treasuries have climbed to 0.45 percent from 0.24 percent in June.
Eagan is a manager of the Loomis Sayles Bond Fund, which has returned 7.9 percent this year, beating 89 percent of peers, according to data compiled by Bloomberg. In February, he said Treasuries weren't adequately compensating investors for the risk that inflation would accelerate. He expects the 10-year yield will reach from 2.5 percent to 3 percent by the first quarter of next year.
In September, when benchmark yields were around 1.6 percent, Jeffrey Gundlach forecast they would exceed 2 percent before year-end. The chief executive officer of DoubleLine also predicted Trump would win the presidency and the deficit would climb. Gundlach, who turned bearish on Treasuries when 10-year yields fell to a record low 1.318 percent in July, says yields have more room to rise.
"I wouldn't be surprised if the next presidential election or a year after that -- so four or five years from now -- the 10-year Treasury is at 6 percent," he said on a webcast Nov. 8 from Los Angeles before the polls closed.
See also: Watsa Dumps 90% of U.S. Long-Bond Holdings Ahead of Election
His flagship fund, the $61.3 billion DoubleLine Total Return Bond Fund, which invests mostly in mortgage-backed securities, is up 2.85 percent this year, outperforming 69 percent of its peers. It has returned an annualized 4.3 percent over five years, outperforming more than 92 percent of its peers. Gundlach now recommends Treasury Inflation Protected Securities, after famously calling them investments "for losers" as recently as 2014.
Trump has pledged to cut taxes and spend as much as $500 billion on infrastructure. His proposals would boost the nation's debt by $5.3 trillion, the non-partisan Committee for a Responsible Federal Budget estimated. The government's marketable debt is at a record of almost $14 trillion.
Expectations for fiscal stimulus helped spark the recent surge in inflation expectations, as seen in the gap between yields on 10-year inflation-indexed securities and equivalent nominal Treasuries. The figure was 1.91 percentage points Thursday, the highest since July 2015.
Rate Path
The market-implied probability that the Federal Reserve will raise interest rates in December is 86 percent, according to fed fund futures data compiled by Bloomberg. After liftoff from near zero in December, the Fed has left rates unchanged and pared projections for the path of tightening. Overnight index swap contracts implied the central bank's benchmark rate will be 1.11 percent in two years, compared with the expected 0.83 percent on Nov. 7, the day before the U.S. election.
At Western Asset Management, Carl Eichstaedt, who manages the $18 billion Western Asset Core Plus Bond Fund, said in February that Treasuries were "very expensive" and investors were underestimating the resilience of the U.S. economy. He now expects yields to climb to 2.25 percent over the next year, anticipating the Fed will raise rates in December and twice next year.
Trump's "policies are definitely expansionary," Eichstaedt said. "A Trump administration probably results in more Fed tightenings."
Election 'Trigger'
Eichstaedt, whose fund has returned 5 percent this year, beating 79 percent of peers, said he will buy bank bonds due to higher rates and will add curve-flattening trades.
In a Nov. 3- Nov. 7 Bloomberg News survey of 23 primary dealers that trade with the Fed, John Briggs, head of strategy for the Americas at RBS, was the only one of 11 respondents to predict yields would rise a day after a Trump victory. Hours after the election results, the 10-year yield touched two percent, just above Briggs's call of 1.95 percent.
Francesco Garzarelli, London-based co-head of global macro and markets research at Goldman Sachs Group, had also been calling for a 2 percent 10-year yield. Treasury 10-year yields will climb to 2.5 percent by the end of 2017, he said Nov. 9. Garzarelli cautioned in a note Friday that with the market pricing in larger inflationary pressures, the speed and magnitude of the rise in yields may become a threat to U.S. growth, with effects of tighter financial conditions spilling over into the global economy.
Some bond bears see the election as a catalyst unleashing market forces that had already been building.
"We have been saying for quite some time that U.S. Treasuries appear to be overvalued," Michael Hasenstab, money manager at Franklin Templeton, wrote in a note this week. "I wouldn't have necessarily predicted the election to be the trigger to begin to correct the situation, but when shocks happen, markets that are distorted will tend to react most violently. U.S. Treasuries have demonstrated that."
Before it's here, it's on the Bloomberg Terminal.
LEARN MORE