Analysts Boggled by Copper's Run: Crazy, Nuts, Unsustainable
by and
'Speculators are running away with the market,' Bain says

Copper soared and then quickly collapsed within minutes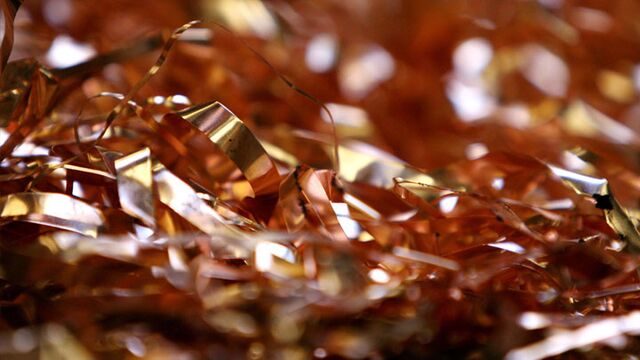 The copper market went haywire this week, leaving analysts voicing shock over a rally that seemed to have few fundamental reasons.
Explanations range from an influx of Chinese speculation, Donald's Trump's promise to spend more on U.S. infrastructure to falling stockpiles and bullish forecasts from mining executives during LME Week. Still, analysts say that's not enough to justify a rally that at one point pushed copper prices above $6,000 a ton.

"It's crazy, it's nuts and it's not sustainable," Daniel Briesemann, an analyst at Commerzbank AG in Frankfurt, said by phone. "Nothing that's happened can explain why copper's shot up by $1,000 in a week."
Briesemann said he expects a "sharp correction" to happen soon, with prices falling at least 10 percent. That may be underway.
The metal was up as much as 7.6 percent during the London morning. Then, within minutes prices suddenly collapsed in the afternoon. The metal was down 1 percent to $5,545 a ton as of 5:32 p.m. local time.
Still, copper is still up 11 percent for the week, the most since 2011.
The consensus among analysts is that prices aren't supported by fundamentals. Global refined output will exceed demand by 420,000 tons next year, the biggest surplus in eight years and up from 110,000 tons this year, London-based researcher CRU Group said earlier this month.
Running Away
"Speculators are running away with the market," Caroline Bain, an analyst at Capital Economics Ltd. in London, said by phone. "There may not be a crash tomorrow, but we expect prices to drop in the coming weeks."
An increase in trading fees and margins on Chinese commodities exchanges is prompting speculators to trade copper on the LME, Citigroup analysts including David Wilson wrote in an e-mailed note. The Shanghai Futures Exchange on Thursday raised margin requirements for aluminum and other metals, after trading terms for iron ore, coal and other commodities were tightened by Chinese bourses.
"This is a Chinese game that's being played out in a new space," said Andy Pfaff, chief investment officer for commodities at MitonOptimal Group in Cape Town. "It's a traveling train wreck."
Before it's here, it's on the Bloomberg Terminal.
LEARN MORE