Citigroup Says Get Used to Trump Rotation Into the Stock Market
By
Strategists raised equities to overweight from underweight

Fixed income securities cut amid growing inflation risk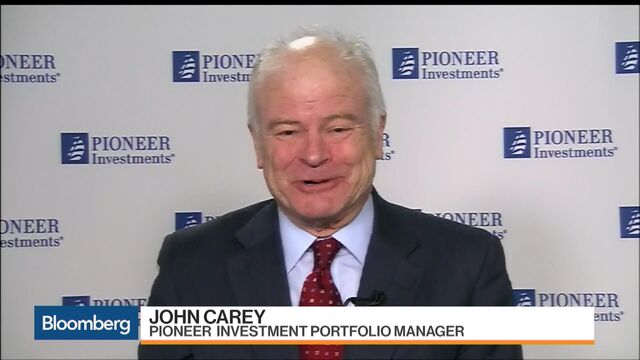 Citigroup Inc. views the 72-hour-old rotation into stocks following Donald Trump's presidential victory as the start of something big.
Strategists led by Jeremy Hale raised the firm's recommendation on global equities to overweight from underweight, meaning investors should hold more stocks relative to their benchmarks. They cut fixed income, saying government bonds and the credit market will underperform in the next 12 months.
The shift came during the S&P 500 Index's best week in two years as more than $1 trillion was wiped off the value of bonds around the world. While acknowledging the risk that fixed income volatility spills into equities, Citigroup said Trump's plans to ramp up fiscal spending will benefit corporate earnings and make bonds less attractive.
"Fiscal easing could be exactly what the U.S. and global economy needs right now, thus lifting real growth expectations but also inflation expectations," the strategists wrote in a note to clients. "The prospect of stronger nominal growth should bode well for earnings, though we highlight how higher bond yields and rich US equity valuations as a starting point, constrain our optimism."
The capitalization of a global bond-market index slid by $450 billion Thursday, a fourth day of declines that pushed the week's total above $1 trillion for only the second time in two decades, Bank of America Merrill Lynch data show. Global stocks gained $1.3 trillion in the same period while the S&P 500 advanced 3.4 percent. Yields on U.S. 30-year bonds, which are more sensitive than shorter maturities to the outlook for inflation, jumped the most this week since January 2009.
While stocks will benefit more from Trump's policy, investors should avoid emerging markets, Citigroup said, reversing its stance to favor developed countries. The MSCI Emerging Markets Index has slumped 5.5 percent for the biggest three-day decline since August 2015.
"Valuations remain attractive in most emerging market assets, equities included, but economic fragilities remain and the improving second derivative of growth may falter if local currency weakens," the strategists wrote. "We can't help but feel a stronger U.S. dollar could dramatically hamper investor flows and, as a corollary, credit and economic growth."
In the U.S., stocks are poised to decouple from bonds for the first time after they moved in the same direction in the previous eight months. The two assets had shown a closer relationship this year as investors focused on the monetary policy by the Federal Reserve, whose quantitative easing have helped fuel broad market gains.
As a caution against a repeat of synchronized selling across markets, as happened in early September, or the risk of heightened volatility should higher rates be perceived as bad for all assets, Citigroup suggested investors to increase cash holdings.
"The markets have largely been Fed focused throughout 2016, " said Alan Gayle, a senior strategist at RidgeWorth Investments in Richmond, Virginia. "We're going to see a shift away from monetary policy orientation toward fiscal policy possibilities."
Citigroup didn't specify the percentage of money investors should earmark to each asset.
In Bloomberg survey conducted at the end of October, Wall Street strategists advised investors allocating about one-third of their investment in bonds, 48 percent in stocks and the rest in cash and commodities.