Carry Trades Collapse as Emerging-Market Yield Advantage Shrinks
By and
Higher U.S. yields diminish appeal of riskier alternatives

AllianceBernstein sells most of EM currency holdings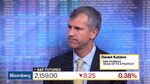 Add emerging-market carry trades to the early list of losers from a Donald Trump presidency.
Bets on higher-yielding currencies from Indonesia to Brazil are unwinding at the fastest pace since 2011 as soaring U.S. Treasury yields undermine the case for riskier government debt. A Bloomberg gauge of the carry trades in eight developing-nation currencies tumbled 3.8 percent over the past two days as the yield advantage on emerging-market bonds narrowed to a 16-month low.

It's an abrupt reversal for a strategy that had rewarded foreign-exchange traders for much of 2016, pushing the index of carry trade returns to an 18-month high on Tuesday. The rise in U.S. Treasury yields, fueled by expectations that Trump's spending plans will boost inflation and swell America's budget deficit, deals another blow to emerging markets already bracing for a wave of protectionist policies from the president-elect.
"The probabilities don't look so good for emerging-market currencies until we get stability around Treasury yields and some reduction in uncertainty around the new president," said Matt Sheridan, a money manager who helps oversee about $16.6 billion at AllianceBernstein LP in New York. "The potential for capital to move away from emerging-market currencies has increased."
AllianceBernstein sold 50 percent of its exposure to currencies in the developing world two weeks before the election, Sheridan said. After Trump's victory, the firm cut the remaining holding another 75 percent.
The South African rand, a popular carry-trade currency because of its high local interest rate, was the biggest casualty in emerging markets on Friday, slumping 2.3 percent against the dollar by 11:36 a.m. in London to the lowest level in two months. The Indonesian rupiah dropped as much as 3 percent in Asian hours, before paring losses to 1.1 percent after the nation's central bank stepped in to stabilize the market.
In India, state-run banks sold dollars on behalf of the country's monetary authority, according to two Mumbai-based traders who asked not to be identified. The rupee dropped 0.9 percent. Brazil's real, another favored carry-trade, sank almost 5 percent on Thursday.
Trade Rhetoric
While yields in emerging markets are still higher than those in America, the gap has been shrinking. The so-called spread between JPMorgan's GBI-EM Global Diversified Composite Index and 10-year U.S. Treasuries narrowed to 4.41 percentage points on Wednesday, the smallest since July 2015.
Trump's promises to get tough on trade have also weighed on emerging markets. On the campaign trail, he vowed to pull America out of the Trans-Pacific Partnership, brand China a currency manipulator and build a wall along the border with Mexico.
"Donald Trump has not even started yet, and the U.S. is not an isolated economy," Heinz Ruettimann, an analyst at Julius Baer Group Ltd. in Zurich, said in an e-mailed note. "The more radical and faster changes will be, the more volatility we will have to expect around the world."
To be sure, it hasn't been all bad news for markets after Trump's surprise victory. The Dow Jones Industrial Average climbed to a record on Thursday, while China's Shanghai Composite Index entered a bull market. Russian equities have also rallied on speculation Trump will improve ties with Moscow.
JPMorgan Downgrade
Still, strategists from JPMorgan Chase & Co. to Citigroup Inc. and Societe Generale SA have warned that uncertainty about the path of the America's trade policy has the potential to trigger further emerging-market declines. JPMorgan cut its recommendation on dollar-denominated bonds to "underweight" Wednesday and added short positions in currencies, including the Malaysian ringgit. Citigroup analysts said Thursday that emerging-market government and corporate debt could come "under a considerable amount of pressure" as U.S. Treasury yields rise.
The benchmark U.S. 10-year note yield has jumped 37 basis points to 2.15 percent this week, while 30-year rates climbed 39 basis points. Global bond investors have lost more than $1 trillion this week through Thursday, Bank of America Merrill Lynch data show.
"Definitely the steepening of the U.S. yield curve is one cause for the emerging-market selloff," said Rajeev De Mello, who oversees about $11.7 billion as the head of Asian fixed income at Schroder Investment Management in Singapore. "I'd say it's way too early to think the correction is done."
— With assistance by Ye Xie
Before it's here, it's on the Bloomberg Terminal.
LEARN MORE