Brexit Bulletin: Looking East, Looking West
Warm words with the world's two largest economies.
by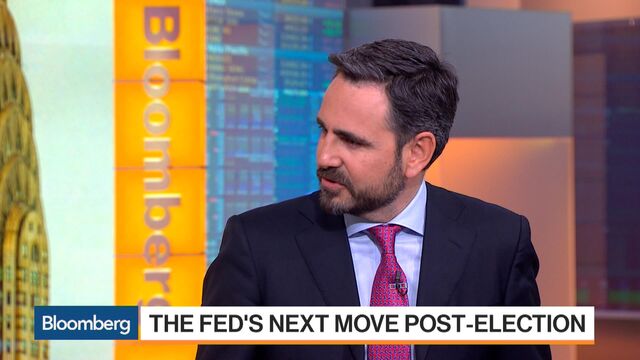 Sign up to receive the Brexit Bulletin in your inbox, and follow @Brexit on Twitter.
Prime Minister Theresa May's government spent Thursday engaging with the world's two biggest economies, hoping both will help power the U.K. economy after Brexit.
She spoke with U.S. President-elect Donald Trump, her office saying afterwards that she "highlighted her wish to strengthen bilateral trade and investment with the U.S. as we leave the EU."
She may find Trump more willing on that front than President Barack Obama, who stated a preference for regional trade deals over a bilateral one with the U.K. If Trump is ready to do business, it could hand May leverage in her engagement with the EU.
Trump, who owns a golf course in Scotland, told May the U.K. is a "very, very special place" for him and that he wished to rekindle the kind of relationship Margaret Thatcher and Ronald Reagan shared in the 1980s. The Telegraph said British ministers will use Nigel Farage of the U.K. Independence Party as an intermediary to Trump.
Earlier in the day, May and Chancellor of the Exchequer Philip Hammond met with Chinese officials, with both sides announcing a "strategic plan" to deepen financial links between the two nations.
Despite the Brexit vote, Chinese banks want to open branches in the U.K. Yesterday, the London Stock Exchange Group and the Shanghai Stock Exchange agreed to develop more common operations between the markets, the two governments said in a statement.
 "Our trade relationship with China is now more important than ever," Hammond said. Vice-Premier Ma Kai said, "China will be happy to see the U.K. and Europe reach a win-win relationship."
The U.S. and China talks gave May an upbeat end to a week that began in India, where Prime Minister Narendra Modi's criticism of U.K. visa restrictions highlighted the difficulties in establishing trade ties after Brexit.
New York – More Appealing Under Trump?
Rather than deterring bankers with its populist zeal, the Trump administration could end up boosting New York's appeal for those looking to quit Brexit Britain.

The depth of New York's markets, its regulatory system and supply of talent are already promoting some to speculate that it, rather than Frankfurt or Paris, may be the ultimate winner if banks leave post-Brexit London.
Now Trump's pledge to "dismantle the Dodd-Frank act" may add to New York's allure, according to Jonathan Tyce, a senior analyst at Bloomberg Intelligence. Dodd-Frank overhauled financial regulation in the wake of the 2008 crisis, banning certain investments by banks and handing regulators the power to take apart failing firms.
Trump's transition team said yesterday it is working to replace the legislation "with new policies to encourage economic growth and job creation."
Swallowing the Medicine 
Forget bankers: What European governments are really trying to woo from London are pharmaceutical regulators.
The U.K. capital is home to the European Medicines Agency, which employs almost 900 people and oversees the safety of drugs sold in the European Union, a market of more than 500 million consumers. Once the U.K. splits off, the EU may look to relocate the agency elsewhere within the bloc.
As Peter Levring and Chiara Albanese report today, Sweden, France, Denmark, Hungary and Bulgaria are among the countries already making pitches.
Brexit Bullets
U.K. government lays out case ahead of Article 50 appeal to Supreme Court
EU Brexit approach won't be aggressive, says top negotiator Barnier
JPMorgan's Dimon said to have urged the U.K. to take its time over Brexit, says Sky
London business wants City visas to avoid Brexit skills shortage
S&P sees hard Brexit being the most likely outcome
Liberal Democrats to oppose Article 50 without second referendum
Japanese Ambassador says London banks face "nightmarish" choices, says Guardian
On the Markets
The pound is back. Trump's election pushed sterling to the top of this week's pile of best-performing currencies against the US dollar. It's a welcome bit of good news for the British currency, which is also on course for its best week against the euro since early 2009.

KPMG is the latest to note that not all British stocks are benefiting from sterling's post-referendum weakness. In a report this week, the consultancy created the non-UK50 index, featuring the largest listed firms that source more than 70 percent of their revenues from abroad. It has climbed 19 percent since the referendum.
By contrast, its UK50 measure of companies that generate more than 70 percent of their revenues from within the U.K. is down 10 percent. That's the equivalent of a £211 billion rise in the value of outward-facing firms and a £40 billion loss for those with a domestic bias, it said.

And Finally...
British bookmakers are nursing multi-million pound losses from this year's political earthquakes, according to the Financial Times. Companies such as William Hill lost a combined £6 million from Trump's victory, which – as with the Brexit referendum – the oddsmakers failed to predict correctly.
"The small punter, the man in the street having his £10 or £20 had seen enough to be persuaded that Trump would win. As with Brexit they were spot on," Dale Tempest, PR director at Sky Bet, told the FT.
For more on Brexit follow Bloomberg on Twitter, Facebook and Instagram, and see our full coverage at Bloomberg.com
Before it's here, it's on the Bloomberg Terminal.
LEARN MORE