Wells Fargo Leads Banks Up as Trump Win Seen Curbing Warren
by
Regulations likely 'less onerous under Trump,' analyst says

Spending could boost long-term rates, fueling lending income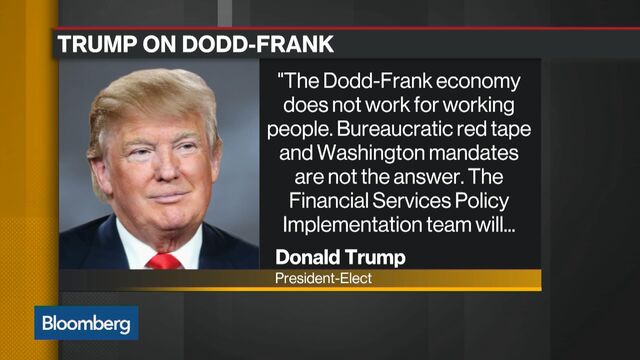 Wells Fargo & Co. climbed for a second straight day, leading U.S. bank stocks higher, as investors bet that a Trump presidency will lead to less regulation, sideline some of the industry's sharpest critics and lift long-term interest rates.
Wells Fargo, which drew bipartisan rebukes from Congress after bank employees opened unauthorized customer accounts, rose 7.8 percent to $51.73 at 3:40 p.m. in New York. The stock has climbed 14 percent since Donald Trump's victory on Tuesday, the best two-day rally in seven years. The shares have more than recouped their declines since Sept. 8, when the lender announced a settlement with regulators for abusing retail customers.
"There is this belief that the regulatory process is going to become much less onerous under Trump," Charles Peabody, a Compass Point Research & Trading analyst, said Thursday in a phone interview. "Since a lot of the problems at Wells Fargo were regulatory-induced, there is hope for some relief on that front."
Trump's proposal to boost spending on infrastructure could fuel inflation and steepen the yield curve, Evercore ISI analyst Glenn Schorr wrote in a Nov. 9 note. That can spell trouble for asset managers but is "generally good" for banks, he said. A higher curve, reflecting a wider difference between short- and long-term interest rates, can make it easier for banks to profit on lending.
Well Fargo was the best performer in the 24-company KBW Bank Index, which advanced 3.8 percent. JPMorgan Chase & Co. advanced 4.6 percent, while Bank of America Corp. climbed 4.4 percent.
Trump's Vow
Wells Fargo has faced a barrage of criticism and calls for closer scrutiny since agreeing in September to pay $185 million over claims that employees may have opened more than 2 million unauthorized accounts for customers. It lost its status as the world's most valuable bank to JPMorgan days later, and is now being investigated by the Department of Justice and the Securities & Exchange Commission. The bank's chief executive officer and chairman, John Stumpf, resigned, leaving his lieutenant, Tim Sloan, to take over as CEO and reassure customers the bank would work to restore their trust.
The Consumer Financial Protection Bureau -- the agency that extracted the biggest fine over the accounts from Wells Fargo -- could get new leadership and see its authority and enforcement efforts curtailed. The regulator, championed by Senator Elizabeth Warren of Massachusetts, is among targets Trump has identified for possible changes -- a positive for large retail banks, Jefferies analyst Ken Usdin wrote in a Nov. 9 note to clients.
Trump's transition team broadly vowed Thursday to dismantle the 2010 Dodd-Frank Act, the post-crisis regulatory overhaul that created the CFPB.
"The Dodd-Frank economy does not work for working people," the group wrote in a statement on its website. "Bureaucratic red tape and Washington mandates are not the answer."
Scrapping Rules
While Trump hasn't clarified those plans, some of his fellow Republicans have laid out a detailed agenda. House Financial Services Chairman Jeb Hensarling of Texas introduced a bill earlier this year dubbed the Choice Act that would scrap much of Dodd-Frank. Hensarling's proposals include curtailing the agency's reach and replacing its lone director with a bi-partisan panel, scrapping the Volcker Rule -- which restricts deposit-taking banks from betting in markets -- and lifting a cap on debit-card swipe fees.
Trump "will have the necessary support in Congress to either repeal the act or to eviscerate it," Octavio Marenzi, CEO of Opimas LLC, a consultant focused on capital markets, said of Dodd-Frank in an e-mail. "It won't be hard to get the deregulation ball rolling" since "Wall Street has reached a high point in regulation."
Warren and Representative Maxine Waters of California, both Democrats, were among lawmakers offering the harshest criticism of San Francisco-based Wells Fargo during Congressional hearings in September, calling for additional probes and charges. Their complaints may hold less sway following the change in administrations, Peabody said.
"If the head of the DOJ is being told by Trump to leave them alone, I don't think they're going to care what Maxine Waters or anyone else says," Peabody said, referring to the Department of Justice.
Lower Priority
Before Trump's victory, Wells Fargo was poised to spend much of 2017 fielding more questions on Capitol Hill, said Ed Mills, an analyst at FBR Capital Markets. But with the rewrite of regulations on the agenda, the bank "drops well down in the priority list."
Wells Fargo and peers with large wealth-management operations also are poised to benefit from Trump's promise to decrease personal tax rates, Morgan Stanley analyst Betsy Graseck wrote in a Nov. 10 note.
Still, the jump in bank stock prices is "way ahead of any fundamental justification that's sustainable," Peabody said. "Things are getting overdone."
Before it's here, it's on the Bloomberg Terminal.
LEARN MORE