Trump Talks Politics With Obama in 'Swamp' He'll Soon Call Home
By and
'If you succeed, the country succeeds,' Obama tells Trump

Oval Office visit followed by meetings with Ryan, McConnell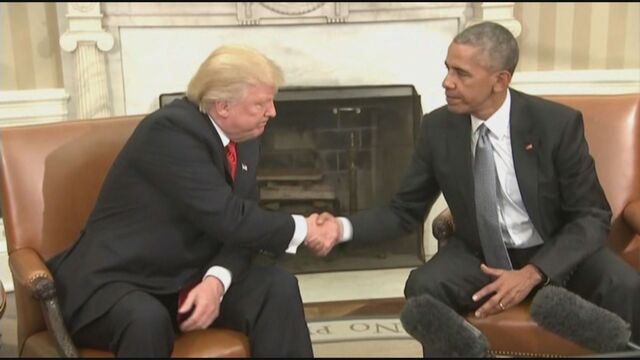 Donald Trump arrived in Washington on Thursday, his status as president-elect opening doors across a city he's described as a swamp in need of draining.
The high drama of the day came at the White House, where Trump was welcomed by President Barack Obama just days after the incumbent warned voters that the Republican was dangerously erratic and shouldn't be trusted with the nation's nuclear codes. It is difficult to overstate the animosity between Obama and his successor, dating back to Trump's claims that the nation's first black president was ineligible for the office. But both pledged to work together as the Republican prepares to assume power.
Then it was off to Capitol Hill, where Trump met with top Republican lawmakers and laid out his plans to work with them to restrict immigration, upend the Affordable Care Act, and pass a massive infrastructure construction bill to create millions of jobs.
"We have a lot to do," the president-elect told reporters following a meeting with Senate Majority Leader Mitch McConnell of Kentucky.
Thursday's events were a key step toward the peaceful transition of power, and Trump's statements indicated an uncharacteristic restraint that the White House praised as evidence he's interested in bridging national divides exposed over a brutal presidential campaign. Protesters took to the streets of several U.S. cities Wednesday night, including New York, Chicago and Portland, Oregon, blasting Trump as a racist and burning him in effigy.
"It is important for all of us, regardless of party, regardless of political preferences to now come together, work together," Obama said Thursday after the hour-and-a-half meeting in the Oval Office. "If you succeed, the country succeeds," he told Trump.
Vice President Joe Biden met with Vice President-elect Mike Pence and discussed "key duties" of the office, their shared time in Congress and their families, according to a White House statement. Biden invited the Pence family to join him for dinner at the vice president's Naval Observatory residence.
Transition Website
House Speaker Paul Ryan of Wisconsin showed Trump the spot outside the Capitol where he'll be inaugurated in just over two months -- a looming deadline for a man who has never before held public office and who delayed planning his government out of concern it would distract from his campaign.
Trump's transition team launched a new website outlining the president-elect's plans across a number of policy areas, including health care, immigration and financial and energy-sector regulation. Trump has promised to roll back Obama-era regulations that he says are stifling economic growth.
Among the proposals: a $550 billion investment in rebuilding the nation's transportation network, a suspension of immigration from countries "where adequate screening cannot occur," and opening federal land and waters for leasing by energy companies.
The president-elect's plans also include lowering corporate and personal income taxes and dismantling the Dodd-Frank financial regulation law.
The website is soliciting applications for more than 4,000 political appointments Trump will make to the upper echelons of the federal government. People familiar with Trump's plans say the president-elect is weighing who to appoint to his cabinet: former New York Mayor Rudy Giuliani is a leading contender to serve as attorney general and Representative Michael McCaul is a favorite for Homeland Security secretary. Senator Jeff Sessions of Alabama, one of Trump's earliest supporters in elected office, has been told he has his pick of cabinet positions and is thought to be interested in defense secretary.
Demonstrating Comity
But Trump also made clear he wouldn't play by all the old rules. Breaking with decades of tradition, Trump's campaign did not allow a so-called "protective pool" of journalists to travel with the president-elect as he traveled from New York and across Washington. The move drew a rebuke from the White House Correspondents Association, which said in a statement Trump's decision "could leave Americans blind about his whereabouts and well-being in the event of a national crisis."
Trump spokeswoman Hope Hicks, whose day featured meetings with top Obama administration communications officials at the White House, said in an e-mail that arrangements for a pool were underway.
Still, Trump strived to demonstrate that he was willing to work with both a president and a congressional leadership team he has mocked and criticized from the campaign trail.
In the Oval Office, Trump said his meeting with the president spanned far beyond the ten-to-fifteen minute get-to-know-you chat he had expected. The leaders discussed the president's upcoming trip to Germany, Greece, and Peru, and Obama offered advice on how to staff the incoming administration.
"We discussed a lot of different situations, some wonderful and some difficulties," Trump said. "He's explained some of the difficulties."
White House Chief of Staff Denis McDonough was seen walking with Trump's son-in-law, Jared Kushner, a close adviser to the president-elect, on the South Lawn while Obama and Trump met.
Melania Trump meanwhile shared tea and a tour of the White House residence with first lady Michelle Obama while their husbands met. Reporters were not invited to observe the interaction between the two women, who share their own awkward history: Trump was accused of cribbing lines for her convention speech from the first lady. Michelle Obama was one of Donald Trump's fiercest critics on the campaign trail, at one point strongly condemning his lewd remarks about women.
The whirlwind tour through the nation's capital may have left the Trump family nostalgic for the comforts of home, however. The president-elect had originally planned to spend the night in Washington, but decided late in the afternoon to return to New York and his penthouse apartment at Trump Tower.
— With assistance by Ben Brody, and Jennifer Jacobs
Before it's here, it's on the Bloomberg Terminal.
LEARN MORE