Welcome to the Donald Trump era. Today's conservatives are far more likely than liberals to favor riskier, quick fixes for the country's economic and social challenges.

The non-partisan Pew Research Center looked at registered voters who planned to back Trump, surveying the group between Oct. 25 and Nov. 8, as they headed to the polls. Unlike Democrats, who favored tried-and-true methods of solving society's problems, they were looking for new solutions — even if those were more likely to fail and make matters worse.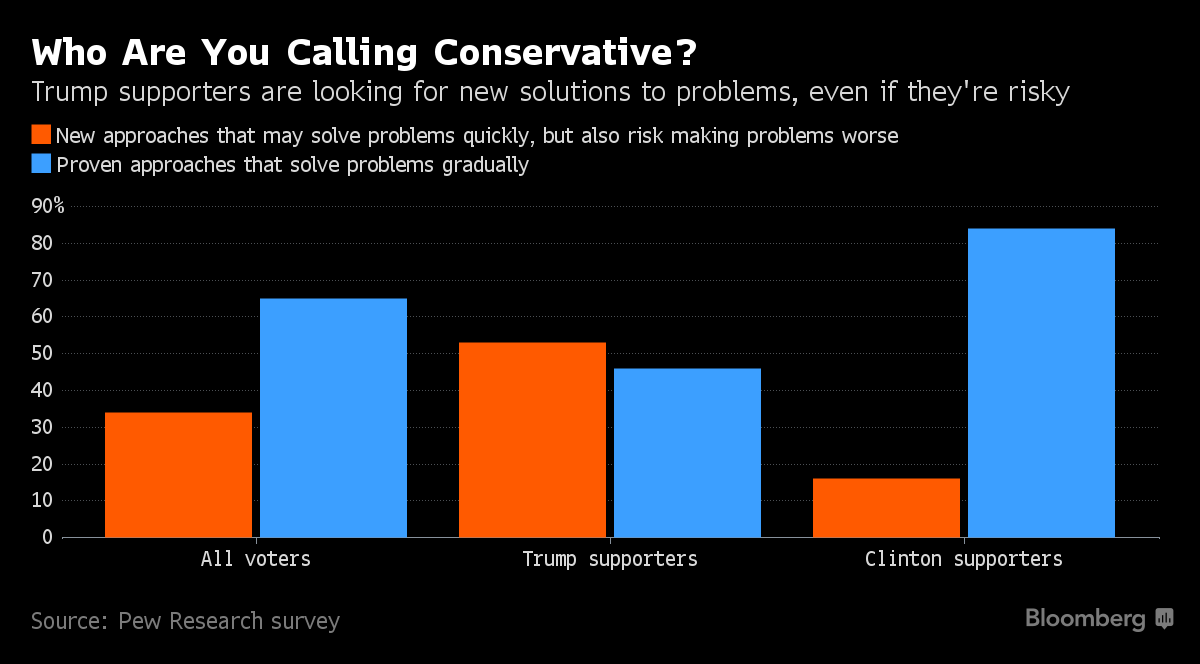 And when it came to problems, Trump supporters saw a lot of economic shortcomings. They were most likely to list illegal immigration and terrorism as a "very big problem.'' Those were some of the bedrock issues of Trump's campaign. They also placed job opportunities for working-class Americans as a top worry, ahead of crime and inequality.

Trump supporters saw a worse overall economy than Clinton fans perceived. It fits the narrative that while the economy has made strides since the recession, it's left a chunk of Americans feeling they've not been part of the recovery.  

The votes are counted and Trump will take over the White House on Jan. 20, but this study remains relevant. His supporters will be watching to see if he's been able to make progress on all the radical changes in U.S. policy he promised on the campaign trail.


Before it's here, it's on the Bloomberg Terminal.
LEARN MORE