Trump and Obama Vow Comity in Transition After Years of Tension
By and
'If you succeed, the country succeeds,' Obama tells Trump

Trump says Oval Office meeting went on longer than expected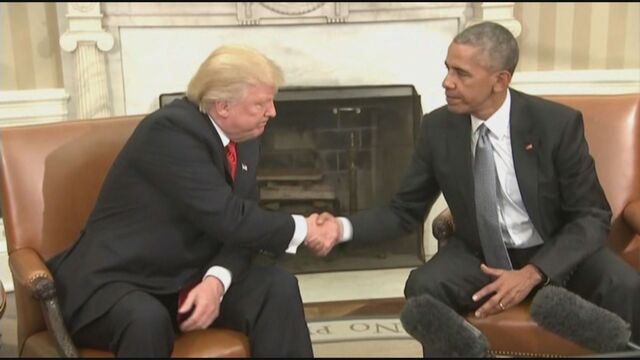 President Barack Obama and President-elect Donald Trump pledged to work together as the Republican prepares to assume power, publicly setting aside years of animosity in hopes of moving the nation beyond the bitter election.
Trump's first visit to Washington since winning the Nov. 8 election is a key step toward bridging the nation's painful divisions before he takes the oath of office in January. There was no outward sign of the tensions between Trump and Obama that defined the Republican's campaign against Hillary Clinton.
"It is important for all of us, regardless of party, regardless of political preferences to now come together, work together," Obama said Thursday after the hour-and-a-half meeting in the Oval Office. "If you succeed, the country succeeds."
Trump said he had expected just a 10- or 15-minute meeting. "It could have, as far as I'm concerned, gone a lot longer," he said. "We discussed a lot of different situations, some wonderful and some difficulties. He's explained some of the difficulties."
They took no questions from reporters who were allowed into the Oval Office briefly after they finished.
Peaceful Transitions
The nation's tradition of peaceful transitions of power, and the pattern of two-term presidents often watching members of the opposite party succeed them, means political foes frequently must behave cordially after lengthy, heated campaigns.
Yet there are few parallels in U.S. history to the relationship between the current president and the president-elect. Trump, 70, first made his mark in politics by leading the "birther" movement that questioned Obama's nationality. Obama, 55, viciously mocked him at the 2011 White House Correspondents' Dinner. During his campaign, Trump called Obama weak, stupid and possibly sympathetic to terrorists. Obama called Trump unstable and unfit for office, while his wife, Michelle, condemned the Republican for his lewd remarks about women.
Trump's motorcade arrived at the White House's South Lawn, where reporters weren't able to observe the two men greeting each other, shortly before 11 a.m. New York time.
White House Chief of Staff Denis McDonough was seen walking with Trump's son-in-law, Jared Kushner, a close adviser to the president-elect, on the South Lawn while Obama and Trump met. Obama and Trump met alone but posed for photographs with a handful of senior aides after the meeting.
White House press secretary Josh Earnest told reporters the meeting was "robust" and "valuable."
"It is no secret that the president-elect and I have some pretty significant differences," Obama said in the Rose Garden on Wednesday. "But remember, eight years ago, President Bush and I had some pretty significant differences."
Obama said he had told his "team to follow the example that President Bush's team set eight years ago, and work as hard as we can to make sure that this is a successful transition for the president-elect."
Binding Wounds
Obama's differences with Bush, though, were confined almost entirely to matters of policy. Since Obama's election, Bush and his wife, Laura, have appeared affectionate toward the Obamas when the two families have met in public. It seems unlikely there will be any similar warmth between President Trump and his predecessor.
Trump didn't mention Obama in his victory speech early Wednesday. He called for unity, saying, "It's time for America to bind the wounds of division."
"I pledge to every citizen of our land that I will be president for all Americans," Trump said.
Neither man has addressed post-election protests in several major cities, including New York and Washington, where demonstrators have criticized Trump's inflammatory rhetoric about African-Americans, Latinos, women, and Muslims.
'Birther' Claims
In the lead up to Obama's 2012 re-election campaign, Trump questioned whether the Hawaiian-born Obama was really born in the U.S. and, therefore, eligible to serve as president. Obama responded by releasing his long-form birth certificate, and then roasted Trump at the correspondents' dinner as the billionaire sat stony-faced.
In September, Trump declined to say in a Washington Post interview whether he believed Obama was born in the U.S. Days later, he acknowledged the fact, blamed Clinton for creating the issue during her 2008 primary run against Obama, and said he had resolved it.
In their meeting Thursday, the president hoped to illustrate the downsides of unilaterally withdrawing from international agreements, Earnest told reporters beforehand. Trump has said he will withdraw from trade agreements and military alliances unless the U.S. obtains better financial terms from its partners, and he has vowed to abandon both the Paris agreement to reduce carbon emissions and the deal Obama's administration negotiated with Iran to curtail the country's development of nuclear weapons.
A senior Trump adviser lowered expectations before the meeting, describing it as little more than a photo op aimed at reinforcing confidence in U.S. government institutions.
Trump hasn't allowed a so-called protective pool of journalists to accompany him as he travels and meets with other public officials, as is traditional with presidents and presidents-elect, limiting coverage of his activities. Trump spokeswoman Hope Hicks said in an e-mail that arrangements for a pool are under way.
Transition Planning
Trump is turning his attention to determining who will be a part of his administration, something he had not given serious thought before his surprise win on Tuesday.
Former New York Mayor Rudy Giuliani is a leading contender to serve as attorney general and Representative Michael McCaul of Texas, chairman of the House Committee on Homeland Security, is a top choice for Homeland Security secretary, according to people familiar with the matter. Senator Jeff Sessions of Alabama is interested in serving as defense secretary, the people said.
Melania Trump was scheduled to meet with first lady Michelle Obama in the White House residence during the meeting between the president and president-elect.
Vice President Joe Biden is scheduled to meet with Vice President-elect Mike Pence on Thursday afternoon. Biden and Pence aren't allowing press coverage of their meeting.
Trump and Pence also set meetings on Thursday with Congress's top Republicans, House Speaker Paul Ryan and Senate Majority Leader Mitch McConnell.
— With assistance by Ben Brody, and Jennifer Jacobs
Before it's here, it's on the Bloomberg Terminal.
LEARN MORE