Sony Goes All In on PlayStation
The PS4 Pro is a bid to future-proof the company's control of console games as it spins off other businesses.
By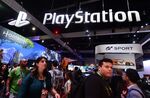 Sony hasn't had much to cheer about over the past decade. Samsung and Apple crushed its smartphones, and even its TV business was eclipsed by rivals from China and South Korea. So forgive the proud home of the Walkman for boasting about the PlayStation, its one item consumers are buying in droves.
Since 2013, Sony and its PlayStation 4 have decisively reclaimed the lead in video game consoles from Microsoft and its Xbox One. Sony has 55 percent of the global market, compared with 29 percent for Microsoft and 16 percent for Nintendo and its Wii U, according to industry website VGChartz. (There are 45.3 million PS4s in consumer hands, 23.5 million Xbox Ones, and 13.5 million Wii Us.) Sony is hoping to deepen its advantage with the Nov. 10 release of the PS4 Pro, which offers more detailed graphics. "Environments come alive like never before," the company said in its online pitch, calling the Pro "the world's most powerful console."
The question is whether it's powerful enough to propel a companywide turnaround, as Sony shrinks or outright abandons other product lines. Its TV business claims 5 percent of the market, half its share five years ago, according to researcher WitsView. It sold its PC business in 2014 and in the past two months has sold both its battery business (for $168 million) and a Chinese camera subsidiary ($95 million). The battery divestment alone shed 8,500 workers, about 7 percent of the company's workforce.
"We have to eliminate all the businesses which are money-losing," Kenichiro Yoshida, Sony's chief financial officer, said on a Nov. 1 earnings call with analysts. It's "the key thing that we must do."
In its latest quarter ended on Sept. 30, Sony reported operating profit of 45.7 billion yen ($446 million), 8 percent below the average of analyst estimates compiled by Bloomberg. Along with costs from the sale of the battery division, the company blamed the strengthening yen and an earthquake that slowed its production of valuable image sensors for other companies' smartphones. It's cut its profit forecast for the year by 25 percent, to 60 billion yen. It has, however, also stemmed the bleeding in its TV business, says Atul Goyal, an analyst at investment bank Jefferies. That gives Sony more leeway to focus on PlayStations.
The PS4 Pro, as its name suggests, doesn't attempt to reinvent the previous version of the console, but it does try to future-proof it. The upgraded processing power means the Pro can play games in high-end 4K resolution, as long as the game and your TV are also built for that. The Pro also has a much better shot at handling the high frames-per-second demands of the PlayStation VR headset, which can be choppy running on a standard PS4. The Pro gives Sony the only real case for a gamer-ready home VR console this holiday season, Goyal says. Project Scorpio, Microsoft's VR-ready successor to the Xbox One, won't be on shelves until the 2017 holiday season, the company said in an e-mail. Nintendo's forthcoming Switch console isn't 4K- or VR-compatible, President Tatsumi Kimishima told Bloomberg News last month. "There's no competition for Sony on the higher end, and they're one year ahead," says Goyal.
IHS Markit and Goldman Sachs predict Sony will sell 1.4 million VR headsets by the end of the year. Results so far are "on track," Yoshida, Sony's CFO, said on Nov. 1. If even 1 in 10 PS4 owners eventually shells out the $400 or more for a PSVR headset, Sony could get a $1.6 billion boost in sales, estimates Jitendra Waral, an analyst at Bloomberg Intelligence.
Sony has also been trying to make the PS4 a set-top box. Channel packages for its PlaySation Vue streaming-TV service start at $30 a month in some places and include programming from U.S. broadcast networks and cable favorites such as ESPN, the Food Network, and HBO. Sony said on Oct. 27 it will make Vue, which is accessible on its consoles as well as devices from Amazon.com, Google, and Roku, available on its high-end TVs.
These diversification efforts are far from guaranteed. Vue, which was introduced in the U.S. in March, has about 100,000 subscribers, a sliver of comparable streaming services such as Dish Network's Sling TV, which researcher Parks Associates says has about 1 million subscribers. Mainstream VR adoption may take four or five years, says Waral, and the PSVR eventually will have to compete against games for higher-end headsets, such as Oculus's Rift and HTC's Vive. And even the PS4 Pro's vaunted hardware boosts require games that can take advantage of them. Sony has upgrades of more than 40 PS4 hits ready for the new console's launch—shooting game Titanfall 2, the latest FIFA and NBA editions, and three Call of Duty titles are among those that will look sharper—but not all PlayStation games will be retrofitted.
For this holiday season, at least, Sony's gaming fortunes look bright. It will, however, have to worry about one more wild card: the value of the yen, which has gained about 18 percent against the dollar so far this year. Yoshida said on the Nov. 1 analyst call that he expects the stronger currency to cause a drag of about 63 billion yen on operating income. Even the most powerful PlayStation will have a hard time coping with that.
The bottom line: Sony is rolling out an upgraded PS4 in an effort to increase its 55 percent share of the video game console market.
Before it's here, it's on the Bloomberg Terminal.
LEARN MORE