Emerging-Market Currencies Fall, Stocks Stabilize on Trump Bets
By and
Exchange rates weaken for second day on inflation outlook

Commodity producers lead stock gains on Trump spending pledge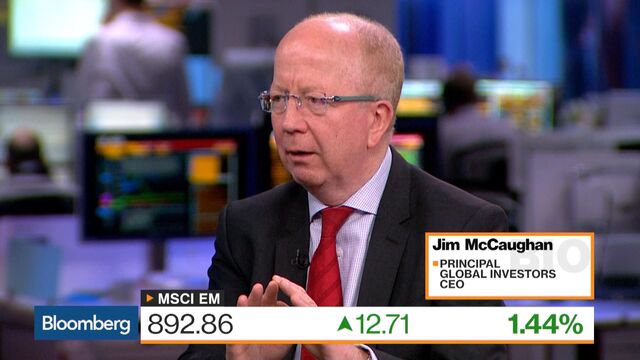 Emerging markets are divided over Donald Trump.
Most stocks rose after a post-election slump on bets his pledge to boost spending will help commodity producers. Bonds tumbled with currencies on speculation those plans will stoke inflation.
Some of the biggest movers of the day include:
China Steel Corp. and Polish copper producer KGHM Polska Miedz SA surged more than 5 percent
Egyptian shares rallied 4.5 percent in their 11th day of gains after country secured $2 billion in foreign financing
Saudi Arabian stocks entered a bull market
The biggest exchange-traded fund invested in emerging-market bonds plunged the most in six years
Mexico's peso weakened 3.8 percent after falling most since 1995 on Wednesday
China's yuan declined to lowest level since 2010
Ukrainian Eurobond yields climbed above 9 percent for first time since June on bets Trump will reduce U.S. support for the country

The Ibovespa tumbled the most since September in Sao Paulo, led by lenders after Banco Bradesco SA reporting disappointing results from its acquisition of HSBC Holdings Plc's Brazil retail unit


"Most people are dwelling on the big drop in bonds, thinking that it will deprive emerging markets of capital flows while at the same time, Trump's protectionist stance is interpreted to mean that EM might benefit from higher commodity prices but lose out from less trade with the U.S.," said Koon Chow, a strategist at Union Bancaire Privee Ubp SA in London. This is "striking a nerve in emerging markets," he said.

A day after Trump's surprise victory sent stocks to the biggest selloff since Britain voted to leave the European Union, investors are reassessing the implications of campaign pledges that included renegotiating free-trade agreements as well as boosting growth. Trump's proposals to raise infrastructure spending spurred gains in mining companies and metals, with copper climbing to a 16-month high.
About 470 stocks in the MSCI Emerging Markets Index rose Thursday, while while 330 fell as the index slipped 0.5 percent to 875.63 after declining 2.5 percent Wednesday. A measure of developing-nation exchange rates dropped 1 percent. The premium investors demand to own developing-nation bonds over U.S. Treasuries widened.
Expectations that an acceleration of infrastructure spending in the world's largest economy may lead the Federal Reserve to increase the pace of interest-rate hikes weighed on developing-nation bonds, as an increase in U.S. borrowing costs reduces the appeal of riskier assets. Odds for a Fed interest-rate hike in December climbed to 82 percent, based on U.S. overnight indexed swaps that trade 24 hours a day, after plunging below 50 percent while the outcome of the election unfolded.
Read more: Trump Victory Wipes $337 Billion Off Market as Global Bonds Drop
"The market is reassessing what is going to happen in reality now that the campaign is over," said Patrick Mange, an emerging-market strategist at BNP Paribas Asset Management in London, who recommends buying Asian equities and South American local-currency bonds. "Many of the pledges on things like infrastructure are quite positive for the U.S. economy."
The Ibovespa declined 3.3 percent. Banco Bradesco plunged 8.9 percent, contributing the most to the Brazilian equity gauge's decline. The lender's shares fell the most since 2014 as investors were disappointed in the profit generated by the HSBC unit it bought for $5.2 billion last year.
The $9.3 billion iShares JP Morgan USD Emerging Markets Bond ETF fell 3.7 percent, the biggest one-day decline since May 2010.
Mexico's peso weakened to 20.6247 per dollar. The peso is the worst-performing emerging-market currency this year, having dropped 17 percent. Forecasts for further losses come even as the peso is undervalued by historical measures. Barclays Plc strategist Andres Jaime predicts it will be at 21.5 in the coming months. Nomura Holdings Inc. has the gloomiest outlook, forecasting the peso will tumble to 25 per dollar in the next six weeks.
Brazil's real weakened 4.9 percent, the most since 2008. The currency is particularly vulnerable to a shift in U.S. monetary policy because Brazil has the highest interest rates among major economies.
The premium investors demand to own developing-nation sovereign debt over U.S. Treasuries widened 12 basis points to 343, according to JPMorgan Chase & Co. indexes. The spread widened for the first time in four days.
— With assistance by Kartik Goyal, and Giang Nguyen
Before it's here, it's on the Bloomberg Terminal.
LEARN MORE