Reactions to President-Elect Trump, From Vladimir Putin to Gloria Steinem
World leaders, business minds, and celebrities have their say.
Bloomberg News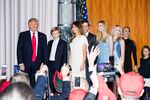 "When Nixon was elected—which happened after Bobby Kennedy and Martin Luther King were murdered—I thought cold and distant white men were going to be in office for a long time, and they were. But we have to remember that real change always happens not from the top but from the bottom, just like a tree. So I want women not to mourn, but to organize. And to remember that women are just going to do it anyway and make change on our own behalves the way we've always done it, without being the president in the White House." —Gloria Steinem
"Whether you are pleased or disappointed by the outcome, we each still have a choice. Today and every day, we have a choice in how we treat one another in our homes, in our neighborhoods, and of course in our stores." —Starbucks CEO Howard Schultz
"Long live Mr. Trump! We both curse at the slightest reason. We are alike." —Philippine President Rodrigo Duterte
"People who were looking for simple answers in a multifaceted world chose a leader for new times." —Polish Foreign Minister Witold Waszczykowski
"As tech leaders, we have to admit that we are hugely disconnected with our nation. I don't like it but have to recognize this issue." —Expedia CEO Dara Khosrowshahi
"What is at stake is peace, the fight against terrorism, the situation in the Middle East, economic relations, and the preservation of the planet." —François Hollande, French president
"Italy survived Berlusconi. Then again, Berlusconi was Adlai Stevenson compared to this." —Alec Baldwin
"Russia is ready and wants to restore full-scale relations with the U.S. We understand it will be a difficult path, but we are ready to play our part." —Russian President Vladimir Putin
"The world will not end, but it will get crazier." —German Justice Minister Heiko Maas
"The Americans gave themselves a president of their choosing and not the one that the Establishment wanted them to rubber-stamp." —French National Front leader Marine Le Pen
"God help us. We're going to have to deal with Trump, holding our noses, to make it work." —Simon Burns, Conservative member of the British Parliament
"To those who awoke afraid and more vulnerable to a president who has pledged to attack you: I stand with you, your city stands with you, and we will find a way through." —Minneapolis Mayor Betsy Hodges
"I reiterate to Donald Trump our willingness to work together in support of bilateral relations." —Mexican President Enrique Peña Nieto
"What's going to unify the Democrats is opposition to Trump. The issues Democrats would divide on, they're irrelevant, because it's going to be like fighting over zoning on Mars." —Former Massachusetts Democratic Representative Barney Frank
"We have heard through democratic processes in both Europe and the United States the frustration that so many people have with the lack of economic opportunity and the challenges they face. We need to listen to those voices." —JPMorgan Chase CEO Jamie Dimon
Before it's here, it's on the Bloomberg Terminal.
LEARN MORE