Franc Knocked by Trump Win as Populism Piles Pressure on SNB
By
Currency reaches strongest level since wake of Brexit vote

Trump's penchant for controversy may mean more gains: BBVA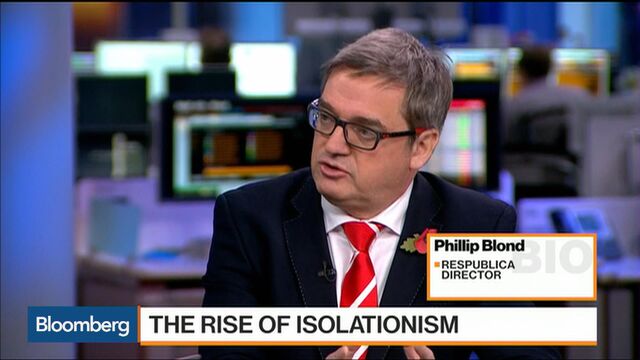 If there's one country with reason to resent the rise of populist movements, it's Switzerland.
Twenty-two months after it abandoned its 1.20-per-euro exchange-rate cap, the Swiss National Bank still finds the franc in focus every time there's a major event that threatens to upset markets. Donald Trump's ascendancy to the White House pushed the currency to the strongest level since the wake of June's Brexit vote, and options prices suggest more gains are likely.

The move may have been greater on Wednesday if it weren't for the SNB's declared intolerance of franc volatility. Officials probably sold the currency to limit its advance, according to strategists at Banco Bilbao Vizcaya Argentaria SA and UBS Group AG's wealth management unit. One thing is certain: with an incoming U.S. president with a propensity for controversial remarks, and risks such as Italy's referendum on constitutional reform next month, there'll be plenty more pressure points for the franc.
"All it could take is an off-the-cuff remark from Trump to send markets into a spin," said Peter Frank, the London-based global head of Group-of-10 and Asian currency strategy at BBVA, which sees the franc ending the year at 1.09 per euro. "The safe-haven play after the yen and gold is the Swiss franc. So there's a significant chance of lots of episodes of intervention being forced onto the SNB."
The franc climbed to 1.07404 per euro on Wednesday, and touched its strongest level since June 27. This was dwarfed by its gain of as much as 2.6 percent on June 24, after Britons voted to leave the European Union. It also paled in comparison with the yen's move. Japan's currency jumped as much as 3.9 percent Wednesday, the most since the results of the U.K. referendum became known.
The Swiss currency fell 0.3 percent to 1.07728 per euro as of 9:40 a.m. London time on Thursday.
Conciliatory Trump
Strategists attributed the relatively modest franc increase to a combination of the market re-assessing Trump as commander-in-chief following a conciliatory acceptance speech, and central-bank intervention.
SNB board member Andrea Maechler said Monday that the central bank was prepared to step in to quell gains in the franc following the U.S. election. Spokesman Walter Meier declined to comment on the intervention talk on Wednesday.
A spiraling franc risks hurting the Swiss economy which -- despite a current-account surplus equal to 10 percent of output -- is blighted by consumer prices that have been falling for two years. For that reason, it's nothing new for the SNB to sell francs to stem the currency's advance: trading patterns suggest it's defending a de facto currency cap of 1.08 francs per euro.
The pressure shows no sign of lessening. The extra cost of options protecting against a stronger franc, over those betting on a decline, was 2.1 percentage points, the second-highest six-month risk-reversal premium among the G-10 currencies.
The SNB "appears to have calmed down markets, either directly or indirectly," said Thomas Flury, head of foreign-exchange research at UBS Wealth Management in Zurich. "The SNB already announced that well ahead of this event, that they'd be ready like during Brexit."
— With assistance by Catherine Bosley
Before it's here, it's on the Bloomberg Terminal.
LEARN MORE