Five Things You Need to Know to Start Your Day
Get caught up on what's moving markets.
by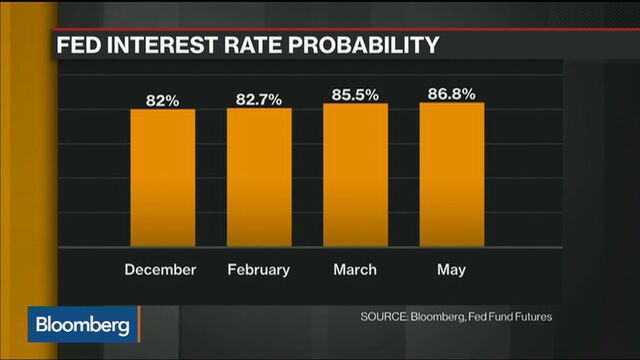 Want to receive this post in your inbox every morning? Sign up here.
Markets warm to President-Elect Trump, sentiment is changing on a December Fed hike, and oil output surges. Here are some of the things people in markets are talking about today.
Markets digest Trump
While the losing Democratic party faces tough questions after being roundly defeated this week, and triumphant Republicans look to a new era of political power, markets already seem to be adjusting. Banks, bonds and healthcare all had big moves yesterday as the winners and losers from the change of guard were sorted. On the streets of the U.S. there were protests as demonstrators declared they would refuse to accept the result. 
Fed odds
One of the first places the new administration's weight might be felt is at the Federal Reserve, which had been expected by the vast majority of investors to hike rates at its December meeting. After initially falling to below 50 percent, the market-implied odds of a hike are back over 80 percent this morning, with Pimco warning that should Trump's policies prove inflationary, there may be a need for more rate rises over the medium term than previously forecast. Meanwhile, Goldman Sachs Group Inc. cut the chances of a December rate rise to 60 percent, from 75 percent.
Oil output
In its monthly report published this morning, the International Energy Agency predicted that crude prices may decline amid "relentless global supply growth" unless OPEC reaches a deal for significant output cuts. The IEA also raised its forecast for non-OPEC supply by 111,000 barrels a day to almost 500,000 barrels a day, with the increase led by Russian production. Oil futures, which had something of wild ride yesterday, are much more stable this morning, with a barrel of West Texas Intermediate for December delivery trading 20 cents lower at $45.07 a barrel as of 5:16 a.m. ET.
Stocks rally
Overnight, the MSCI Asia Pacific Index climbed 3.1 percent as stocks made up lost ground after ending the previous session close the nadir of the initial Trump selloff. In Japan, the Topix index closed 5.8 percent higher, while the Nikkei 225 added 6.7 percent. In Europe, the Stoxx 600 Index had gained 1.1 percent by 5:17 a.m ET, with banks leading the rally. S&P 500 futures added 0.9 percent.
Commodities surge
Goldman Sachs Group Inc. said that Trump's promise to rebuild American infrastructure means commodities used for those projects will benefit under his administration. Copper added as much as 3.9 percent to $5,625 a metric ton on the London Metal Exchange, while zinc futures in Shanghai climbed to the highest level since November 2010. Iron ore rallied to its highest level since January 2015.
What we've been reading 
This is what's caught our eye over the last 24 hours.
Before it's here, it's on the Bloomberg Terminal.
LEARN MORE