Macy's Taps Brookfield to Mine Real Estate Cash as Sales Dip
By
Management firm will create plan for 50 Macy's properties

Retailer under pressure to squeeze money out of its holdings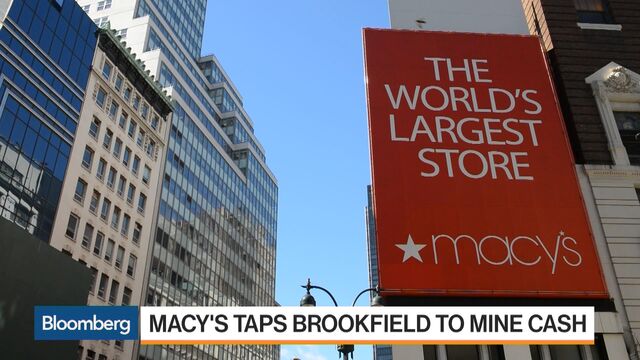 Macy's Inc. hired Brookfield Asset Management to squeeze more money out of its real estate holdings after the largest U.S. department-store company posted another quarter of declining sales.
Brookfield will have the exclusive right for two years to create a development plan for about 50 pieces of Macy's real estate, the retailer said in a statement on Thursday. The holdings include stores and land that Macy's owns or ground-leases -- most of which are in shopping centers that aren't owned by major mall owners.
The alliance signals that Macy's is getting more aggressive about capitalizing on its sprawling real estate holdings. Other chains, such as Sears Holdings Corp. and Darden Restaurants Inc., have used their properties to generate cash by forming real estate investment trusts -- an option that Macy's has avoided so far.
"For the last two years we've been involved in individual transactions," Chief Executive Officer Terry Lundgren said in an interview. "This is something brand new. This is a joint venture relationship with one of the single largest and most successful asset management companies."
The Brookfield deal follows a same-store sales decline of 2.7 percent in the fiscal third quarter, which ended Oct. 29. But that was better than the 3.4 percent drop estimated by analysts. Macy's also offered a slightly brighter forecast for the year, saying comparable sales would be down 2.5 percent to 3 percent. It had originally predicted a decrease of as much as 4 percent.
Stock Jumps
Shares of Macy's rose as much as 6.6 percent to $40.90 in New York. That followed a gain of 9.7 percent this year.
In April, Macy's appointed Douglas Sesler as a senior-level real estate executive and said it's been evaluating proposals for joint ventures involving flagship and mall-based stores. The company also added Four Corners Property Trust Inc. CEO Bill Lenehan to its board, tapping a real estate expert to help the retailer determine what to do with its properties.
It also announced plans this year to shut about 100 full-line stores, out of its portfolio of 728 locations, to focus on better performers. Macy's also said on Thursday that it's selling its 248,000-square-foot (23,000-square-meter) Union Square men's building in San Francisco for $250 million. The company will bring its men's store into the chain's main San Francisco location across the street. Macy's also will sell its downtown Portland, Oregon, store for $54 million, with its closing slated for the spring.
Herald Square
The company is still exploring options for its locations in downtown Minneapolis, on Chicago's State Street and in New York's Herald Square.
"The Herald Square store would be one we would do as an individual transaction like we've done with downtown Portland or the men's store in Union Square," Lundgren said in the interview. "It's complex because half of the building is office space that we don't pay rent on, and we'd have to go pay rent somewhere else. We're still looking at all the possibilities to maximize shareholder value."
Macy's has been under pressure from activist holder Starboard Value LP since July 2015 to wring more money from its real estate portfolio and consider forming a REIT. The investment firm's CEO, Jeff Smith, expressed disappointment last month that Macy's has moved so slowly, saying that it's now "exploring the things we want them to do."
Since the beginning of 2015, Macy's has announced or complete asset sales that are expected to generate $800 million.
'Baby Steps'
But the steps so far may not be enough to please Starboard, said Poonam Goyal, an analyst at Bloomberg Intelligence.
"They're taking baby steps," she said.
Lundgren, who will hand the reigns to President Jeff Gennette in the first quarter of 2017, has worked to cut costs and reinvigorate the company's store fleet. Still, the Cincinnati-based chain is facing slumping mall traffic as shoppers continue to shift their spending online.
The good news is inventories are healthy, meaning there may be less reliance on discounting to move merchandise. Kohl's Corp., another department-store chain, cited inventory management for helping fuel results on Thursday. The Menomonee Falls, Wisconsin-based company reported earnings of 80 cents a share, excluding some items, better than the 70 cents analysts had estimated.
Kohl's shares jumped as much as 12 percent to $51.27.
"Just seeing inventory being in much better position is good, and it's very good going into the holiday," Goyal said.
Before it's here, it's on the Bloomberg Terminal.
LEARN MORE