Trump's $337 Billion Bond Upset Casts Shadow on Rallying Stocks
by and
Bigger chance of Fed hike under Trump presidency, Westpac says

U.S. 10-year note yield jumped most since 2013 on Wednesday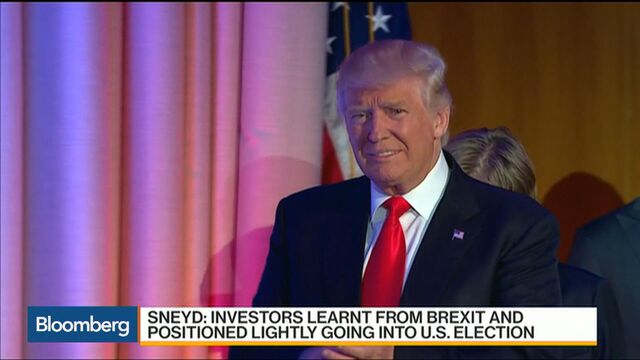 Investors saw $337 billion wiped off the value of securities that comprise an index of global bonds in a single day Wednesday following Donald Trump's election as President, the flipside of global upswing in stocks and commodities.
While Trump's spending plans have pushed equities, raw materials and the dollar higher, bonds have declined on speculation he'll need to sell more debt and on concern faster growth will lead to a surge in inflation, which erodes the value of fixed-income securities. The selloff deepened on Thursday, pushing 10-year Treasuries down for a fourth day and sending yields in Italy to the highest level since September 2015.

"Right now bonds are in some trouble," said Barra Sheridan, a rates trader at Bank of Montreal in London. There is some concern that Trump "will be more fiscally expansionary, he will look to spend more money."
The U.S. 10-year yield rose five basis points, or 0.05 percentage point, to 2.11 percent as of 2:20 p.m. in London, according to Bloomberg Bond Trader data. The yield jumped 20 basis points Wednesday, the most on a single day since July 2013.
The decline in bonds saw Bank of America Merrill Lynch's Global Broad Market Index drop by about 0.7 percent on Wednesday.
The selloff spread across the world, with bonds across Europe falling Thursday. The yield on 10-year German bunds climbed as much as 12 basis points to 0.32 percent, its highest since March, while the yield on similar-maturity U.K. gilts rose for a fourth day to 1.38 percent, the most since June 23.
Italian 10-year bond yields added 20 basis points to 1.95 percent, and those on Spain's climbed 16 basis points to 1.43 percent.
Fed Outlook
Bonds are falling as traders boost their inflation outlook and increase bets the Federal Reserve will raise interest rates. Bonds had initially risen on haven demand as the early vote count showed Trump set to win the election, before changing direction.
"Trumpeconomics implies a likely faster pace of Fed rate hikes next year," said Robert Rennie, head of financial markets strategy at Westpac Banking Corp. in Sydney. "It is clear that this wave of populist vote has reflected, in part, dislike of tight fiscal, easy monetary policy. If we are now seeing a shift in the U.S., then that means markets will have to reprice this." 
The U.S. 10-year note yield will climb to 2.30 percent by June, Rennie said.
Trump, the 70-year-old real estate magnate, has pledged to cut taxes and boost spending on infrastructure by as much as $500 billion. His proposals would increase the nation's debt by $5.3 trillion, the non-partisan Committee for a Responsible Federal Budget estimated. The government's marketable debt has more than doubled under President Barack Obama, to a record of almost $14 trillion.
Steeper Curves
The extra yield on U.S. 30-year Treasuries over two-year notes surged to the highest since February as investors priced in Trump's pro-growth policies. The spread reached 199.7 basis points on Thursday.
BMO's Sheridan predicts yields on 10-year Treasuries can reach around 2.20 percent within a month. "The steepening trend is pretty firmly entrenched, I think it will continue," he said.
The difference between yields on 10-year Treasuries and U.S. inflation-linked debt, a gauge of expectations for consumer prices, jumped to 1.90 percent Thursday, the most since July 2015. The figure shows the market's forecast for the annual average inflation rate over the period.
Quickening inflation means Fed policy makers may act more swiftly to raise interest rates after holding off since increasing them from near zero in December 2015. As of Nov. 9, there was an 82 percent chance they will move at their Dec. 13-14 meeting, up from 76 percent at the end of last week, according to data compiled by Bloomberg based on futures.
"We had flagged repeatedly that longer-term yields are too low relative to inflation," said Eugene Leow, a fixed-income strategist at DBS Group Holdings Ltd. in Singapore. "The market has been adjusting, but it took a Trump victory and a Republican sweep of Congress to prompt the market to rethink the inflation outlook."
Before it's here, it's on the Bloomberg Terminal.
LEARN MORE