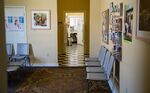 Mara Nicholson woke up at 5 a.m. on Nov. 9, checked the election results, and burst into tears. She's been crying ever since and can't seem to stop. "I've never been a political person. I couldn't tell you if I was registered Republican or Democrat, or who I voted for beyond the last election," she said. "But I'm very upset. I have three young kids, I'm worried about them. I'm worried about minorities. Women, especially. Today, I realized, I'm going to have to get political."
Nicholson, 39, lives in San Jose and works in Silicon Valley; 2,500 miles away, 33-year-old Kristen Goldsmith was having a similar reaction in Ashville, N.C. Goldsmith had recently received $50 as a birthday present from a friend who, she knew, had once had an abortion. "For me, reproduction rights are very personal," she said through tears. The morning Hillary Clinton gave her concession speech, Goldsmith donated her birthday gift to Planned Parenthood.
These kind of frantic reactions didn't just happen because a Republican won and a Democrat lost. President-elect Donald Trump has used difficult language to describe various women throughout a brutal campaign—"crazy and very dumb," "nasty," "bimbo," "sad."He has been heard bragging about grabbing them. Yes, the incoming president once called himself "pro-choice in every respect"—and he also said at one point that women who had abortions should face "some form of punishment."
Many American women have grave doubts about where their soon-to-be president stands.
This uncertainty could be heard throughout Wednesday at Planned Parenthood's Pennsylvania call center, which was flooded with questions from crying women facing new worries that they would lose their insurance if Trump made good on his promise to repeal the Affordable Care Act. For a brief time on Wednesday, the term IUD was trending on Twitter, as women urged each other to get the long-acting birth control implant in case they lose their insurance or, much less likely, birth control suddenly becomes harder to acquire. Some IUDs can last up to 12 years, longer than any presidential administration. This is a real dilemma now.
"I know that seems crazy but there's so much gray area, where you don't actually know what he believes. I honestly don't know what we'll have access to," said Laura, 30, a freelance writer in Los Angeles who asked not to use her last name. When she realized that Trump would become president, she made plans to get her first IUD. Christina, a 23-year-old University of Texas-Austin student, similarly made an appointment with Planned Parenthood to switch from the pill to an IUD. "I've thought about it before, but it seems like it'd be a proactive choice, economically, right now," she said. A television producer in Los Angeles who gets her health insurance through the Affordable Care Act said she was also looking into getting an IUD.
"It's too early to tell if we'll see an uptick in requests for IUDs as a result of the election," said Dr. Raegan McDonald-Mosely, chief medical officer of Planned Parenthood Federation of America, noting that the organization will continue to talk to women who come to them with questions about birth control and abortion access in the future.
There is a direct, measurable correlation between access to affordable birth control and the number of women who use it. According to a study published in the New England Journal of Medicine, exclusion of Planned Parenthood from Texas's state-funded family planning program in 2013 led to a 36 percent drop in reimbursement claims for IUDs—meaning that fewer women were getting them. The number of women on Medicaid who gave birth rose 20 percent in counties that had a Planned Parenthood. Last year, Congressional Republicans voted to keep Planned Parenthood from receiving about $500 million in federal funds, although their efforts were ultimately blocked by Senate Democrats.
Planned Parenthood hasn't yet tallied up the amount of donations it received after Trump's victory, but the outcome of the election looks likely to become a sizable source of contributions. In Atlanta, to cite just one example, Elizabeth Hartman, 33, raised $1,900 for her local affiliate through Facebook. The group has seen this kind of politically motivated rush to donate before. In 2012, after 19 states passed an unprecedented number of abortion restrictions, such as mandatory waiting periods or ultrasounds, individual supporters gave $98 million—$25 million more than they had the year before.
Still, a reduction or elimination of public funding could severely cripple the organization. Planned Parenthood operates about 650 health centers around the country and gets 48 percent of its revenue from public funding. This fall, the Obama administration proposed a new rule that would prevent states from withholding federal family planning funds from health centers for any reason other than their ability to provide quality medical care. That rule can always be undone.
"That's really what I'm concerned about—a Republican Congress intent on trying to defund Planned Parenthood," said Sarah Wexler, 35, a freelance writer in Portland, Ore. "With Obama, we had someone advocating for us, so we could take a step back and let him do it. Now we have to be vigilant because there is no front line."  The day after the election, Wexler donated an entire day's pay, amounting to several hundred dollars, to Planned Parenthood, the ACLU , the Council on American Islamic Relations, and other organizations whose causes she believes in. "It felt a little like playing Oprah: 'You get $100! And you get $100!'"
When Planned Parenthood asked if she'd like to make her donation in honor of anyone, Wexler paused for a minute then wrote in a name of someone she'd never met but said she still supports: Hillary Clinton.
Before it's here, it's on the Bloomberg Terminal.
LEARN MORE